Harry Styles says he loves women's clothing as he covers Vogue in a dress
13 November 2020, 13:57 | Updated: 13 November 2020, 14:49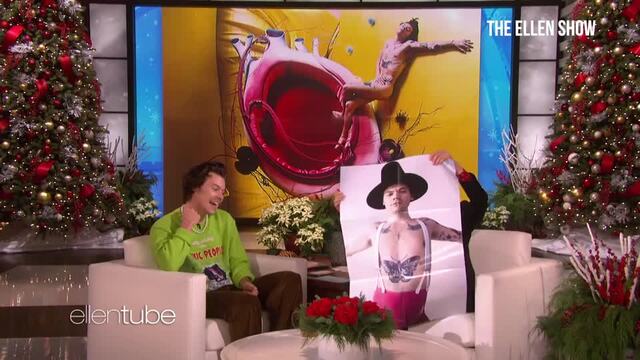 Harry Styles reveals why he got naked for his Fine Line album art
Harry Styles is on the cover of the December issue of US Vogue and he is wearing a dress.
Harry Styles is Vogue's new cover star and he has opened up about why he loves wearing women's clothes in the interview.
It's no secret that Harry Styles is a modern fashion icon. Ever since One Direction first rose to fame in 2010, people couldn't get enough of his creative looks and unique style. Whether Harry's rocking pearls or a rainbow cardigan, fans are obsessed with everything the wears. Not to mention, he also hosted the Met Gala, the most fashionable event of the year, in 2019.
READ MORE: Harry Styles fed a fan's fish and wrote her a note after his car broke down in front of her house
People also love that Harry is that he's never afraid to rock traditionally 'feminine' looks, and now he's on the cover of Vogue in a dress. This moment makes Harry the first solo man to ever land a Vogue cover in the magazine's 127-year history.
On Vogue's December 2020 cover, Harry wears a Gucci jacket and dress combo. The 26-year-old also wears multiple other women's clothes throughout the spread. Discussing his fashion, Harry says: "When you take away 'There's clothes for men and there's clothes for women,' once you remove any barriers, obviously you open up the arena in which you can play."
He adds: "I'll go in shops sometimes, and I just find myself looking at the women's clothes thinking they're amazing. It's like anything—anytime you're putting barriers up in your own life, you're just limiting yourself. There's so much joy to be had in playing with clothes. I've never really thought too much about what it means—it just becomes this extended part of creating something."
Harry also talks in depth about how his stylist Harry Lambert really gets him. Speaking about Lambert, Harry says, "He just has fun with clothing, and that's kind of where I've got it from. He doesn't take it too seriously, which means I don't take it too seriously." Harry mentions that when they first met, Lamberts asked him to try on "a pair of flares, and I was like, 'Flares? That's fucking crazy" but he's since become much freer with his style.
He continues: "You can never be overdressed. There's no such thing. The people that I looked up to in music—Prince and David Bowie and Elvis and Freddie Mercury and Elton John—they're such showmen. As a kid it was completely mind-blowing. Now I'll put on something that feels really flamboyant, and I don't feel crazy wearing it."
Harry also says: "I think if you get something that you feel amazing in, it's like a superhero outfit. Clothes are there to have fun with and experiment with and play with. What's really exciting is that all of these lines are just kind of crumbling away."