Harry Styles fed a fan's fish and wrote her a note after his car broke down in front of her house
29 October 2020, 12:37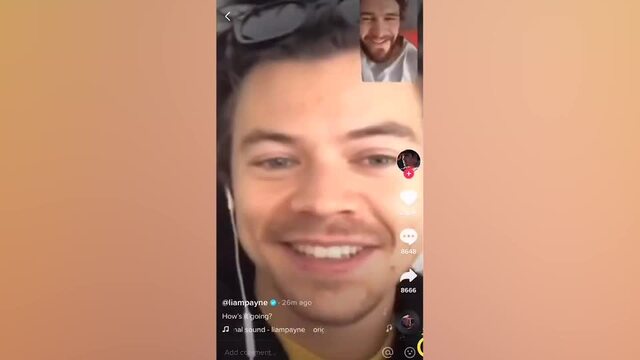 Liam Payne "calls" Harry Styles over FaceTime in new TikTok
Don't stop believing guys. Harry Styles fanfiction dreams can come true.
Harry Styles just went into a real fan's house after his car broke down in front of it but there's a catch... the fan wasn't there.
It's no secret that Harry Styles has an incredible relationship with his fans. Ever since he first rose to fame with One Direction on The X Factor in 2010, the 26-year-old has always made sure to put his fans first and vice versa. As well as thanking them often for their support, Harry has helped fans come out to their parents and, in return, they always defend him from trolls.
READ MORE: Harry Styles' Golden video inspires Fine Line theory that will blow your mind
Few Harry Styles fans can claim that Harry has been to their house for tea though but that's now the case for one of them.
Yesterday (Oct 29), a Harry Styles fan called Theadora revealed that Harry visited her house after his car broke down. Sadly, she wasn't there but he left her a handwritten note. Harry wrote: "Theadora, my car broke down on your street and your dad's friend kindly let me wait at your house with a cup of tea. I'm devastated that we missed each other"
He then added: "Looking forward to meeting soon. Treat people with kindness." Harry ended the note writing: "PS I fed the fish." If that weren't enough, Harry took photos feeding the fish as proof and he even signed her Fine Line album. In the corner of the letter, he wrote: "Tell your dad get in touch and I'll see you at a show."
In other words, while Theadora missed seeing Harry in the flesh, it looks like she will be meeting him in person on his next tour. Naturally, fans and the internet at large are living for the exchange and how it's like a fanfic story come to life.
harry's car broke down so a fans dad let him in his house and while they waited harry fed their fish and left notes for the fan and for that reason your honor, he is the only man to ever exist pic.twitter.com/9pEMiGgjkH

— rachel🦋 (@canyonmoonblu) October 28, 2020
IMAGINE HARRY STYLES' CAR BREAKS DOWN SO YOUR PARENT LETS HIM INTO YOUR HOUSE AND HE IS LITERALLY IN YOUR HOUSE HANGING AROUND FEEDING THE FISH AND YOU MISS HIM BY A FEW MINUTES IT LITERALLY GIVES ME ANXIETY THINKING ABOUT BUT AT THE SAME TIME THEY WON AT LIFE-😭😭

— maya²⁸ LILO SUPREMACY (@larriescompass_) October 28, 2020
if i start cleaning my room based on the microscopic chance harry styles' car breaks down outside my place and needs somewhere to wait mind your business https://t.co/IOvgXQalWW

— iana murray (@ianamurray) October 28, 2020
how is he real? like he is the prototypical teen heartthrob crush i get why people write fanfics about him now, he aint for me but i get it https://t.co/ng9dxysbBV

— Bolu Babalola (@BeeBabs) October 28, 2020
BRB - tidying my room in case Harry's car breaks down in front of my house.