Harry Styles in "final talks" to star as gay policeman in new film with Lily James
18 September 2020, 10:50 | Updated: 18 September 2020, 11:45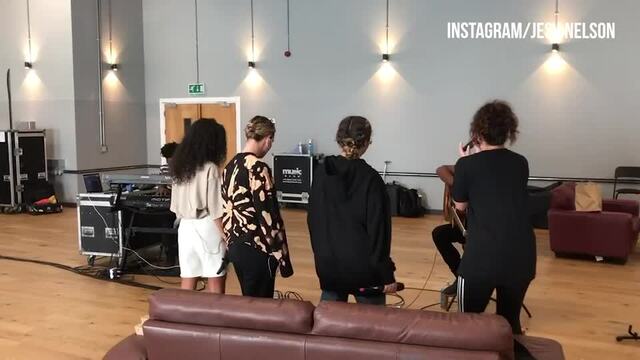 Little Mix perform stunning Harry Styles cover
Amazon Studios have bought the rights to adapt Bethan Roberts' best selling novel, My Policeman, into a movie.
Harry Styles is reportedly in final negotiations to play the lead queer character in Amazon's film adaptation of My Policeman.
Harry Styles is quickly building up an impressive acting resumé. Ever since One Direction went on hiatus in 2016, he's made a name for himself in cinema as well as music. Harry earned huge critical acclaim for his appearance as Alex in Christopher Nolan's Dunkirk and he has since been attached to projects like Olivia Wilde's Don't Worry, Darling and Marvel's Eternals.
READ MORE: Harry Styles fans are convinced he's playing Starfox in Marvel's Eternals
Now, Harry looks set to take his on-screen career even further in a movie as a closeted, gay policeman with Lily James.
What is My Policeman about? Here is a short summary of the book.
Yesterday (Sep 17), Deadline broke the story. They revealed: "Amazon has closed a deal with Berlanti Schechter Productions to produce untitled pic based on the acclaimed novel My Policeman with Harry Styles and Lily James in negotiations to star. Tony and Olivier Award winner Michael Grandage will direct from an adapted screenplay by Oscar-nominee Ron Nyswaner."
Written by Bethan Roberts, My Policeman was released in 2012. The best-selling novel is set in Brighton in 1957. It's about a policeman called Tom in the 1950s. Marion, a school teacher, and Patrick, a museum curator, both fall in love with Tom. Tom is only in love with Patrick but he marries Marion due to homosexuality not being accepted in society at the time.
The love triangle results in drama, deceit and devastation for all three parties involved.
Harry was spotted carrying the My Policeman book in London in February.
Harry is reportedly signed on to play Tom with Lily as Marion. There is no word yet on who will play Patrick.
What do you think? Are you excited to see the movie?