Here's where to buy Harry Styles' exact Golden necklace
27 October 2020, 11:33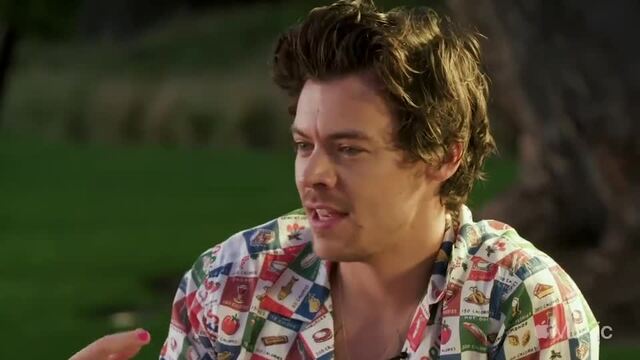 Harry Styles explains meaning behind Golden on Fine Line
Harry Styles wears two different Éliou necklaces in the Golden video. Here's where to buy them.
Have we all recovered from Harry Styles' new 'Golden' music video yet? No? Great, me neither. Gonna need 3-5 business days to take it all in tbh.
Harry dropped the (reported) final music video of the Fine Line era yesterday (Oct 26), and took us all on the Italian summer vacay we weren't allowed to have this year.
As always, H pulled out all the stops with his fashion choices. Gucci crochet driving gloves, floral print trousers from Steven Stokey-Daley, vintage yellow rain hat that has left Paddington shaking in his boots... But the item that all the fans are dying to get their hands on is Harry's 'Golden' necklace.
In the video, Harry sports a pearl necklace with the word 'Golden' spelled out in beads. The good news is: It's actually available to buy. The slightly bad news is: It's a bit pricey. Here's where to buy it.
Where is Harry Styles' Golden necklace from?
There's two 'Golden' necklaces that Harry wears throughout the music video, and both are from a brand called Éliou.
The first one, which is the 'All The Feels' pearl necklace, will cost you $185. The second is the 'Senna' necklace, which has light blue Millefiori beads and pearls. That one costs $85.
Harry's 'Golden' pearl necklaces were both customised but thankfully, you customise your own on the site! So whether you want it to say 'Golden' or 'Cherry' or 'She' or literally anything else, the option is there.
However, if you're planning on ordering one as a Christmas gift for a friend or for yourself for making it through this hell scape of a year, get ordering now.
All the pieces on the site are made by hand and due to the unexpected high volume in interest for the necklace (cheers Harry!), the site has now said that the estimated ship dates for the necklaces are between November 10th and November 20th.
The site also lists another pearl necklace named 'Harry' necklace, which is the same one he was spotted wearing back in September. (He was also wearing their multicoloured 'Thaia' necklace too.)
The 'Harry' necklace is also customisable, although Harry appeared to be wearing an all-blue bead version. This one'll set you back $85, and won't be available to ship until November 10th.
In other important Harry Styles merch news, the Consent King has also updated his merch store with a whole host of new 'Golden' inspired items – but they're only available for a limited time.
From 'Golden' t-shirts and sweaters to tote bags, now is the time to live out your Italian fantasy with Harry Styles.