Katherine Heigl just found out Harry Styles' Watermelon Sugar is about oral sex
26 November 2020, 14:37 | Updated: 28 July 2021, 14:48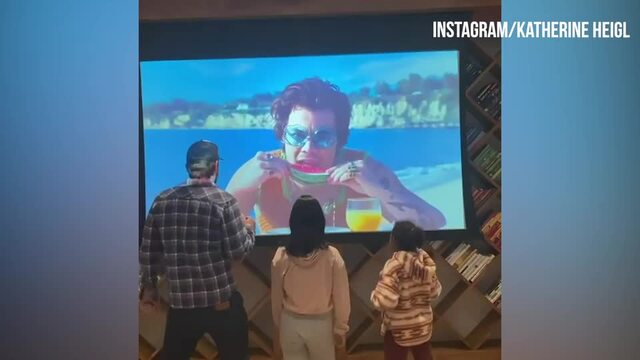 Katherine Heigl shares video of kids dancing to Watermelon Sugar
Katherine Heigl discovering the meaning behind Harry Styles' Watermelon Sugar lyrics is too hilarious for words.
Katherine Heigl just posted a video of her kids dancing to 'Watermelon Sugar' by Harry Styles before learning what it means.
As soon as Harry Styles released 'Watermelon Sugar' in 2019, fans began speculating over what the song is really about. He doesn't specify the meaning in the song, but people quickly began theorising that it's about oral sex. Later, Harry appeared to confirm that the rumours are true in a Zane Lowe interview. The music video also hints at the alleged oral sex meaning.
READ MORE: Harry Styles addresses theory that Watermelon Sugar is about oral sex
Many people are still clueless about it though and Grey's Anatomy star Katherine Heigl just found out in the funniest way.
Earlier this week (Nov 23), Katherine took to Instagram to post an adorable video of her family singing along to 'Watermelon Sugar' with Harry's video playing in the background. It wasn't long before someone let Katherine know what the hit song means. They commented: "Oh no, this song is about going down on women but the kids don't need to know that".
Noticing the comment, Katherine replied: "The kids??!! What about me??!! I thought it was a random slightly chaotic song about watermelons and sugar and...well hell I have no idea what I thought the song was about but oral sex never once crossed my mind...I guess Harry and I have different adjectives to describe the experience."
I think we ALL thought it was a random slightly chaotic song about watermelons and sugar before we thought about it more.
READ MORE: Harry Styles addresses theory that Watermelon Sugar is about oral sex
READ MORE: Harry Styles labelled 'Consent King' by models in Watermelon Sugar video
READ MORE: Harry Styles says he "used to hate" Watermelon Sugar
READ MORE: Katherine Heigl slams Alex and Izzie's Grey's Anatomy ending