Hailey Bieber denies hooking up with Justin Bieber while he was still with Selena Gomez
28 September 2022, 15:19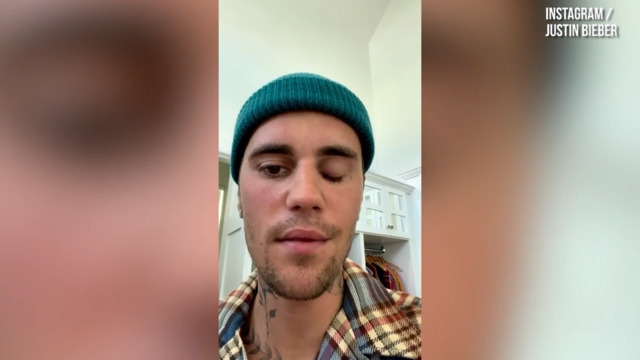 Justin Bieber updates fans on severe facial paralysis
"It's not my character to mess with someone's relationship I would just never do that."
Hailey Bieber has opened up about allegations that she "stole" Justin Bieber from Selena Gomez.
The fan-fuelled controversy has been long discussed in the Selenator fandom as the pair went public just months after Justin had seemingly rekindled his romance with the Same Old Love singer.
Appearing on Alex Cooper's Call Her Daddy podcast, Hailey has addressed the rumours that she was romantically involved with her now-husband Justin at the same time as Selena.
READ MORE: Hailey Bieber denies that Justin Bieber "mistreats" her after 'argument' video goes viral
Hailey and Justin first sparked relationship rumours back in 2014, when Justin and Selena were on a break from their relationship.
But the real drama begins in March 2018 when Justin and Selena seemed to rekindle their relationship, and Selena posted a birthday tribute to Justin, leaving fans speculating that they had got back together.
The now-deleted photo, Glamour reports, showed Selena lying down with a polaroid photo of Bieber stuck on her forehead.
"March 1, 1994 someone I know that happens to be super cool was born. Boom," she captioned the post, per the outlet.
Fast-forward five months, and Hailey and Justin announced their engagement in July 2018 and were wed just over a year later on September 13th, 2018. Because of the short time frame between Selena's Instagram post and Hailey and Justin's engagement, some fans wondered whether there had been any overlap.
READ MORE: Fans think Justin Bieber's new tattoo is dedicated to Selena Gomez
Speaking on the podcast on September 28th, the Rhode Skin founder said that she "understands" the upset and drama over her engagement to Justin but denies any involvement with him while he was still dating Selena.
"When he and I ever started hooking up or anything of that sort, he was not ever in a relationship, ever, at any point," the 25-year-old clarified. "It's not my character to mess with someone's relationship I would just never do that, I was raised better than that. I'm not interested in doing that and I never was.
"I can say period point blank I was never with him when he was in a relationship with anybody, that's the end of it," she added.
Hailey also said that Justin's break-up with Selena was "the most healthy, mature decision he could make", saying that her engagement and marriage to Justin "closed a chapter" between him and the Rare Beauty creator.
"I understand how it looked from the outside and there's a lot of perception there, but that was a situation where I know for a fact that it was the right thing for them to close that door," she explained.
Earlier this year, Selena apologised after the internet accused the Lose You to Love Me singer of being "shady" toward her ex and Hailey on TikTok.
Drag Race UK's Just May Claps Back At Danny Beard's Shady Remarks | Drag Race Yearbook