Justin Bieber's Got A New Problematic Hairstyle And It's Made The Internet HELLA Angry
4 April 2016, 10:51 | Updated: 8 May 2017, 17:09
Oh, Justin... wyd?
After winning over millions of new fans with his cleaned up image and KILLER album, Justin Bieber just made ANOTHER massive faux pas - by way of his hair. Remember the great Cornrow debate of 3 months ago? You think he would have learned from that mistake. Nope.
We high-key hoped and prayed that he would get rid of the look before he performed at the iHeartRadio Awards on Sunday night but he didn't. And the internet were HELLA angry about it.
Lmaooo nah Justin Bieber is so fucking annoying . He knows Dreads/Cornrows is cultural appropriation yet .. pic.twitter.com/EWWY3JV4Wy

— black panther a (@tvchalla) April 3, 2016
"Justin Bieber has dreads" pic.twitter.com/KearqFyIAm

— arian (@michaelsbieber) April 3, 2016
My reaction to Justin Bieber's dreads smh pic.twitter.com/qi4x0mnnxW

— J I M A N I (@jimmy_xion) April 3, 2016
Justin Bieber has dreads rip a formerly mildly attractive white boy hello a literal rotting trashcan

— heauxdelaire (@TastesLikePrada) April 3, 2016
@justinbieber you damn white boy stop being problematic and get rid of those dreads THANKS

— gaby !! (@gabrivla) April 3, 2016
Did someone get Justin Bieber a pretend play hair salon kit?

— Lilit Martirosyan (@GlossNGoss) April 4, 2016
@justinbieber that hair ain't that cool dude ... Too late now to say sorry? pic.twitter.com/XXfvyh3Fq4

— Paloma Hecht (@palomahecht) April 4, 2016
Even model Leomie Anderson felt the need to chime in on the mess that is Justin's hair.
Why does Justin bieber have dreads

— Leomie Anderson (@LeLeValentine) April 3, 2016
Everyone wanted them GONE.
REMOVE. THE. DREADS. @justinbieber

— Maya (@asvpovocole) April 3, 2016
People were also fuming about the fact that Justin's dreads were praised by E! News in particular, after their (read: Giuliana Rancic's) infamous comments about Zendaya's Oscar dreads.
when zendaya had dreads people were saying she "smells like weed" but when justin bieber does the media loves it?? pic.twitter.com/fUaoo5AJdT

— jade (@floppycurls) April 4, 2016
Zendaya gets dreadlocks gets told she looks smelly & homeless but Justin Bieber gets dreads and gets told he's hot. Hmm.

— E$AP (@halfmoonelham) April 4, 2016
Smh Justin, smh.
Why Justin Bieber's hair lookin like the Grinch's fingers tho pic.twitter.com/L4QPaDnma6

— Najah (@champagnenajah) April 3, 2016
Justin Bieber has gotten to the point where you don't even know what he appropriating,
Dreads, braids or straw hay pic.twitter.com/QPsVg1y0Yr

— nae (@neyshajasme) April 3, 2016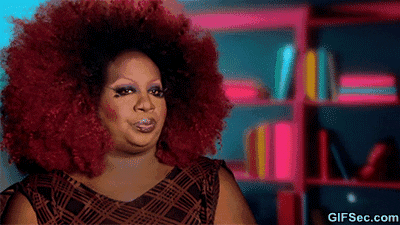 Logo TV / via giphy.com