Fans think Justin Bieber's new tattoo is dedicated to Selena Gomez
6 October 2020, 15:21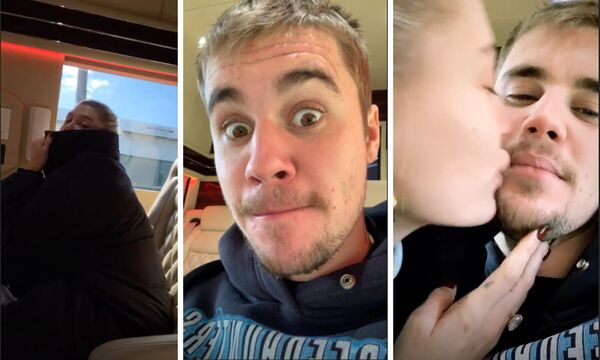 Justin Bieber tried to prank Hailey but it didn't go to plan
Justin Bieber was spotted with a new rose tattoo on his neck, and fans think it has a connection to his ex-girlfriend Selena Gomez...
Justin Bieber is no stranger to hitting up a tattoo shop and adding to his ever-growing collection of ink.
In fact, just last month he debuted a brand new tattoo of a rose across his neck - but some fans think his new artwork may have a connection to his ex-girlfriend, Selena Gomez.
Despite the pair splitting years ago, and his marriage to Hailey Baldwin, fans who are still gunning for the pair to reunite have reached new heights of speculation, claiming that they can visibly see an "S" for Selena hidden among the roses petals.
READ MORE: Justin Bieber wishes he hadn't had sex before marriage
An Instagram account aptly named "sellyandjb" posted a close-up of the tattoo, with the "S" marked over the top. It was captioned "Do you see it now?" and was quickly bombarded with comments from fellow Beliebers making the comparison.
"Did Justin Bieber actually get a tattoo tribute to Selena isn't he married," one wrote, while another added, "Why is the letter S tattooed on the rose? Why does Selena's tattoo remain on his hand?"
Ok, so it could well be a bit of a reach - especially as 26-year-old Justin married wife and model Hailey two whole years ago now.
In a recent interview with Rolling Stone, Selena herself even admitted that some of her more recent tracks including 'Lose You to Love Me' were a goodbye to Justin and that chapter of her life. She's also admitted that all of her ex-boyfriends think she's "crazy".
Sounds like a bit of a reach now, doesn't it?
Justin previously had a portrait tattoo of Selena on his forearm, which he got covered up before his wedding to Hailey, so we can't see any reason why he'd be going out of his way to add another Selena-based inking to his collection.