Katy Perry Allegedly 'Forced To Remove' Drag Queens From SNL Performance Because Of Migos
23 May 2017, 16:36 | Updated: 24 May 2017, 09:19
A representative from Migos' label has called the story 'completely false and fabricated'.
UPDATE 24/5/17
After stories circulated online yesterday (May 23), several drag queens that appeared on SNL in Katy Perry's performances have shut down the rumours on Facebook, confirming that there was no drama with Migos.
____ ____ ____ ____ ____
ORIGINAL POST:
In case you missed it, Katy Perry was the musical guest on SNL last weekend (May 20) and people haven't exactly been raving about it. In fact, there's one report that has emerged and it seems to be casting a bit of controversy over one of her performances.
Katy performed two songs on the show; the first of which was cannibal-bop 'Bon Appétit', followed by the definitely-not-about-shifty-Swift 'Swish Swish'. 

NBC
For her first song ('Bon Appétit'), Katy sang on top of a dining table surrounded by food before Migos climbed on deck to "dance" (and we use that word VERY loosely) with her. However, the original performance was said to have been quite different to what we eventually saw on screen - there were reportedly meant to be a number of Drag Queens featured on stage but ultimately ended up being removed after Migos "complained".
If you stuck around to watch both of Katy's performances, you'll know that she called upon the Drag Queens of the iconic New York club scene - including RuPaul's Drag Race legend Vivacious - to join her on stage for 'Swish Swish'.
But according to World Of Wonder (whose initial story has now been deleted but has since been picked up by Uproxx), several of those Queens who had also been scheduled to appear in the first musical performance were told before the live show that they would no longer be taking part because Migos would not perform with them. WoW cited two anonymous Queens who performed in the second song of the night and an SNL staff member as their sources.
"I was one of the performers on that table with them the whole time, during the rehearsal for 3 days. On the day of the filming, when I got there, I was told to leave. I wasn't on the set at the time, but we were asking what happened. They said it was because Migos doesn't feel comfortable with having drag queens there," said one Queen.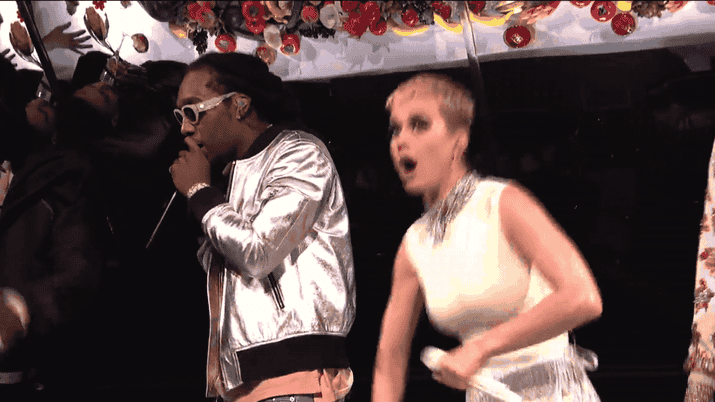 NBC
An SNL staffer also seemed to confirm the situation by saying "Migos held up rehearsal because they 'weren't comfortable with the drag queens' being there. There were initially more drag queens on the set for that song, but after Migos threw a fit, Katy Perry's team removed some of the queens from the performance." 

Migos were previously criticised for making "homophobic" comments about rapper iLoveMakonnen after he came out. They later apologised for the comment. 

As previously mentioned, the original report from World Of Wonder has since been removed from their website after being published and circulated earlier today. A representative from Migos' label has called the story 'completely false and fabricated'.
NBC
____ ____ ____ ____ ____
Listen to the #PopBuzzPodcast with Brendon Urie right here or subscribe for free on iTunes to get new episodes sent straight to your phone every Friday.