Katy Perry Just Reignited The Taylor Swift Feud And We're So Done With It
23 May 2017, 11:39 | Updated: 23 May 2017, 11:54
Katy Perry literally just said "she started it".
As her fourth album campaign goes from shaky to really f**king shaky, Katy Perry has decided to throw everything to the wall and finally discuss the feud between her and Taylor Swift, on Carpool Karaoke no less.
Last night she hit up The Late Late Show with James Corden to sing along to some of her most famous songs while also dishing the dirt on what really went down with Taylor Swift. You can watch the clip below:
#KatyPerry spilling the tea about her beefw/ #TaylorSwift on @JKCorden @latelateshow #CarpoolKaraoke #SwishSwish @katyperry pic.twitter.com/hv961XELgY

— Adam (@OnAirAdam) May 23, 2017
Katy doesn't talk about how it all originally started, except Taylor "started it", but she does go on to explain how the bitter feud developed from her perspective.
"I tried to talk to her about it and she wouldn't speak to me. I do the right thing any time that it feels like a fumble. It was a full shutdown and then she writes a song about me, and I'm like, OK, cool, cool, cool, that's how you want to deal with it? Karma!"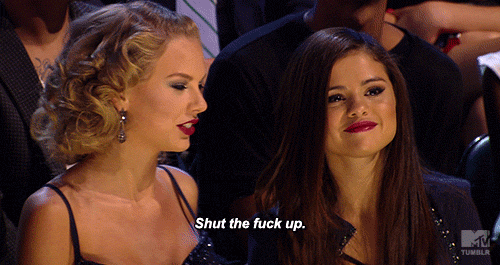 GIPHY
She adds that she's ready to call it quits and end the feud, and then calls James Cordon 'daddy' for reasons we don't fully understand.
"But what I want to say is that I'm ready for that BS to be done. Now, there is the law of cause and effect. You do something, there's going to be a reaction, and trust me daddy, there's going to be a reaction. It's all about karma, right?
Then things get a little preachy.
"I think personally that women together, not divided, and none of this petty b*******, women together will heal the world."
James Cordon finally asks, "would it be enough to receive a text saying the beef is off the grill?", to which Perry replies: "Yes 100 per cent."
GIPHY
Hmmmm. Doesn't it seem peculiar to you that she's dragging this up now just as her latest performances and videos are being criticised by almost everyone? Is this really an attempt to get closure or just another way to promote her new record? Oh, and isn't "Swish Swish" a low-key Taylor diss song?! Urgh. Either way, I doubt this will be the last time we hear about this ongoing #DRAMA this year. Lord give us strength...
____ ____ ____ ____ ____
Listen to the #PopBuzzPodcast with Brendon Urie right here or subscribe for free on iTunes to get new episodes sent straight to your phone every Friday.