We Can Prove You'll Be A Lady Gaga Fan By The End Of This Article
15 December 2015, 16:20 | Updated: 8 May 2017, 17:09
#YearOfGaga
How does a Popstar who hasn't released an album since 2013 become the be all and end all of 2015?! I've been asking myself the same question. Kids, this is a story all about how 2015 made me a Lady Gaga fan.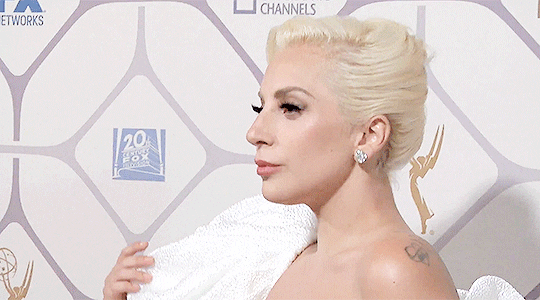 I've been on the fence about Gaga since the dawning of time. I'm usually neither here nor there for her but this year, I have undeniably been HERE. FOR. HER. I don't know if it's because she felt so much more ~human~ this year or what but here's all the reasons why 2016 is gearing up to be her most influential year yet.
It all started in February...
...when she turned up at the Oscars wearing red washing up gloves. I swear I almost gave up then and there. And when I heard she was due to sing a medley of songs from Sound of Music, I rolled my eyes at the thought of all those cheesy gimmicks and stupid costumes. I was so very wrong. She absolutely slayed it by giving the most SPINE-TINGLING performance of all time. And in that moment, I swear I became a Little Monster. To quote Dame Julie Andrews, "Dear Lady Gaga, thank you for that wonderful tribute!". YAS, QUEEN. YAS.
In July, Gaga announced that she would be 'checking in' to the next series of American Horror Story...
This would be the first onscreen role Gaga would play in which she wasn't playing herself. I'll admit, the 'pre-Oscars Gaga' me would have had many reservations (PUN INTENDED YO!) but the new 'Lil' Monster me' was excited to see where her profile would take the series. She became the most talked about actor on the show, and when it finally aired in October, she had undoubtedly cemented her place on the Silver Screen. She'll be back for series 6. Below is the exact moment Gaga snatched my weave with her brilliance.
By the time the Emmys happened in September...
I was a full on STAN. Proving once again that she's more than just an egg-dwelling alien, Gaga arrived in time to let us all know that she was here to be taken seriously in the TV industry. The one who gained such infamy for heinous red carpet crimes turned out to be the Best Dressed, most confident and put together person in the room and the entire world looked on in awe.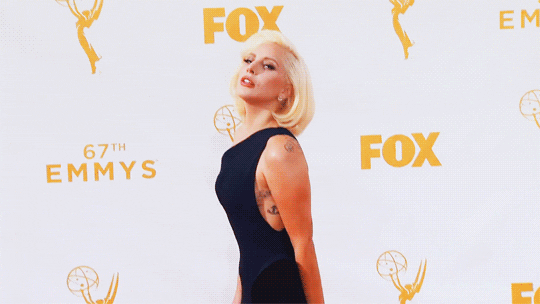 Gaga added the role of socially conscious Queen to her resume in 2015 when she released a moving video for the song she co-wrote with Diane Warren, "'Til It Happens To You". The critically acclaimed video was used as a PSA to raise awareness of sexual assaults on campuses across the US while showcasing Gaga's maturity and undeniable talent. She scored a Grammy nomination for the song. (Update from me: I'm stanning reaaaaally hard at this point.)
People were unhappy when Billboard announced that Gaga had won the Woman Of The Year Award...
But clearly, Billboard managed to recognise that she low-key slayed this entire year too. Lest we forget, she's probably the only Popstar in the game that hasn't been the slightest bit problematic this year. She's come into her own, both personally and professionally. She's called out the BS in the industry, stood up for what she believed in and most importantly (!!!) converted me into a fan.
And she sums it all up in perhaps my favourite Gaga moment of the year:
This is the year I did what I wanted instead of trying to keep up with what I thought everyone else wanted from me.

Lady Gaga, Queen Of 2015
Grammy nomination, a Golden Globe nomination and an album on the way. No Gimmicks, just talent. Slay on, Gaga. 2016 is yours.