Wait... Lady Gaga Might Not Be Coming Back For More American Horror Story?
13 January 2017, 11:15 | Updated: 8 May 2017, 17:09
This doesn't sound good.
Lady Gaga undoubtedly injected to some new life into American Horror Story when she joined as The Countess in American Horror Story: Hotel. I mean, who could forget...
But if the latest interview from Ryan Murphy is anything to go by, it looks like Gags will not be returning to AHS anytime soon.
At the Television Critics Association press tour, Murphy was asked about the future third season of American Crime Story, which will focus on the murder of Gianni Versace, which Gaga was rumoured to play Donatella Versace. Unfortunately for us, Murphy straight up said "no" to that.
While he explained the reason for why Gaga couldn't join ACS, at the same time, he kind-of put to bed any hope of Gaga returning to American Horror Story for Season 7 too. Here's the full quote:
"She's very busy this next year — she's doing Super Bowl and then she's doing A Star Is Born and I believe that she's going on tour. And when you're going to do a show like [American Crime Story], it's a five-month commitment, it's a very big show, we're shooting it all over the world. So I just don't think with her schedule, I knew that it would never had worked. But I would love to work with her on something in the future."
TL;DR: Gaga is too busy to commit to filming next year. And if she's too busy for American Crime Story, what hope does that leave for American Horror Story too? The Superbowl better be lit, Gaga, or we won't be happy.
If only Ryan Murphy could persuade another certain actress to come back to the series?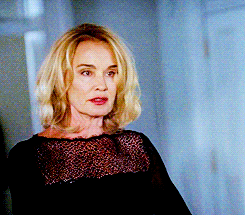 FX / via giphy.com