Lady Gaga Is DAYS Away From Dropping New Single And We're Already Sweating
8 August 2016, 11:40 | Updated: 8 May 2017, 17:09
FUN FACT: It's literally been over 1000 days since Gaga released new music.
Hold onto your teacups Monsters 'cause it looks like we could be getting new music from Lady Gaga much quicker than we expected!
According to Chase Murphy, a radio host from San Antonio, Texas, there will be a brand new song dropping within the next 30 days from the hotly anticipated LG5 album and Twitter is SHOOK.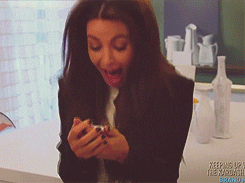 via giphy.com
After making an announcement live on air, fans took to Murphy's Twitter to clarify the bombshell they had just heard from the DJ's mouth.
@ladygagaIover it's true

— Chase Murphy (@Chasemradio) August 7, 2016
Some even felt the need to slide into Murphy's DMs just to double check. He was pretty convincing about it.
August 7, 2016
There's this too. Is this a threat?
Lady Gaga fans should get ready.

— DavidGrapeJuice (@DavidGrapeJuice) 7 August 2016
There's also this. Top level sleuthing at it's finest.
Lady Gaga could perform a new single on #GMA this month, because the act for August 19th is not announced yet... pic.twitter.com/b4SySzEmij

— Lady Gaga (@LadyGagasSwine) August 7, 2016
And if that's not enough, even one of Gaga's biggest fan accounts on Twitter also seemed to back the rumours.
@xGlli6 Yes

— Lady Gaga Daily (@gagadaily) August 7, 2016
*Screaaaaaming* We already know LG5 is dropping in 2016, and it would make total sense for Gaga to drop the lead single in August - just in time for a big performance at the VMAs on August 28th. She pulled that move back in 2013 when she dropped the first single from "ARTPOP" so there's a pretty strong chance she'll do it again.
The timing of the drop would also coincide with her appearance on the new season of "American Horror Story" and she may also be able to swoop in with a cheeky Grammy nomination just before the eligibility cut off point in September 30th. Maybe the Year of Gaga hasn't been cancelled after all.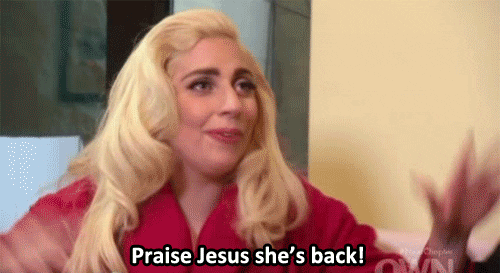 via giphy.com
All signs are pointing to *YES!* but Chase better hope he's right 'cause the Monsters do not come to play with false rumours.
@Chasemradio i swear if there is no music coming out within 30 days, i'll skin you alive and sell you as a purse to melania trump

— ㅤ (@gagamorphosis) August 7, 2016
It better be true. @Chasemradio pic.twitter.com/ylm5qjNUxc

— Lady Gaga Now (@LadyGagaNowNet) August 7, 2016
Do think the rumours are true? Who do you think will drop new music first - Gaga or Frank Ocean? Let us know in the comments!