Why Piers Morgan's Attack On Lady Gaga's Mental Health Is Dangerous And Harmful
14 December 2016, 15:05 | Updated: 8 May 2017, 17:09
THIS is why people don't speak up.
How do you solve a problem like Piers Morgan? In case you've chosen to enrich your life this year by not following Piers' every moment, you might have missed his 'Now That's What I Call Misogyny 2016' compilation of greatest hits.
And now, to top off his year of mean-spirited, judgmental mansplaining, Piers would like you to know that Lady Gaga is faking PTSD to get attention.
Piers makes reference to a video put out by CNN where Lady Gaga revealed, for the first time, that she suffers from PTSD. In a 2014 interview with Howard Stern, Lady Gaga alludes to the fact that she was sexually assaulted by someone in a position of power at the start of her career and has undergone years of therapy to overcome her experience.
Morgan then goes on to question why Lady Gaga never reported her sexual assault. Because he lives in a world where every woman reports their sexual assault and are always treated with dignity and fairness.
Now, I don't have to sit here and point out that sexual assault occurs every 2 minutes in America, or that less than 10 percent of rape allegations are proven false, OR that 80% of women choose not to report being assaulted. Google is a website that I know Piers Morgan can use because I'm 100% sure he types his name into that damn website every day to check how much attention he's getting.
Pretending to be a baby who doesn't understand that PTSD is a widely acknowledged psychological effect of sexual violence that occurs at a rate of 1 in 3 outside the military serves to further expose him as a willfully ignorant man with zero critical thinking ability.
Lady Gaga, being the queen she is, graciously offered to have a discussion with Piers about his accusations.
@piersmorgan I've work w/ our VP Joe Biden on helping educate people about why women don't report, would love to share it w/ you some time.

— xoxo, Joanne (@ladygaga) December 13, 2016
@piersmorgan would also love to talk with you about PTSD, that it's not just a "military" disorder. There is a mental health youth epidemic.

— xoxo, Joanne (@ladygaga) December 13, 2016
@piersmorgan if anyone in your family suffers from it, I pray they have more good days than bad. It has affected me & my whole family.

— xoxo, Joanne (@ladygaga) December 13, 2016
While I commend Gaga for swallowing the bile that is Piers' nonsensical determination of who gets to have PTSD and who doesn't, I'm not sure she needs to sit down and discuss anything with him.
Piers Morgan is a 51-year-old man living in a liberal(ish) democracy, with access to education, and a strong internet connection. There is no way he doesn't realize that what he is saying is absolute rubbish.
So, if we can rule out actual ignorance for this attack on a sexual assault survivor, his statements can only serve to strengthen the argument that Piers is an attention seeker armed with an irrational hatred of powerful women.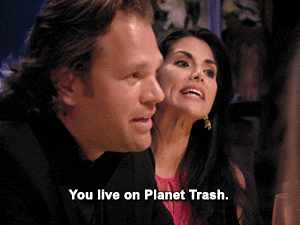 We already have a shedload of woman-hating trolls in the highest reaches of popular culture and government. Piers Morgan is one troll we can actually rid ourselves from. This should be simple considering the fact that Piers is a vestigial talking head who serves no purpose in furthering rational and civil discourse on ANY TOPIC.

So, here is an early New Years resolution for everyone. In 2017 Piers Morgan is CANCELLED.
Women face an uphill battle every day to be believed, to be taken seriously, and to gain social parity with men. Lady Gaga doesn't need to sit with Piers Morgan and prove that sexual assault is traumatic.
Mental health stigma is very real. Sexual assault stigma is very real.
We believe you, sis, and we stand with you.
___ ___ ___ ___ ___
Catch Little Mix & more on the #PopBuzzPodcast right now. Subscribe for free on iTunes to get new episodes sent straight to your phone every Wednesday.