Lana Del Rey called out for wearing "useless" mesh face mask to fan meet and greet
5 October 2020, 12:19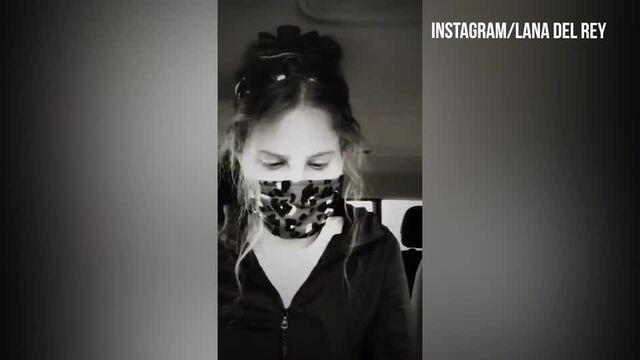 Lana Del Rey reads excerpt from new poetry book
Lana Del Rey is facing criticism after wearing a mesh face mask to a fan signing of her new poetry book, Violet Bent Backwards Over the Grass.
Lana Del Rey has come under fire from fans, as she wore a mesh face covering to a fan signing over the weekend.
In celebration of the release of her new poetry book, Violet Bent Backwards Over the Grass, Lana hosted the surprise meet and greet at a Barnes & Noble store in Los Angeles. However, attendees weren't particularly impressed when the 35-year-old turned up wearing the same, decorative mask she'd previously worn on the cover of Interview Magazine.
The mask, which is made entirely of mesh and has diamanté detailing, bears no protectiveness over the spread of COVID-19 - particularly when the singer was photographed hugging fans up close.
READ MORE: Best TikTok songs 2020: Every viral song from TikTok
Current laws in California require everyone to wear a cloth face covering in public at all times. And now the revelation could land Lana in even more hot water, as she posted an IGTV from the event, encouraging people to come down, before being hit by a barage of comments from fans claiming they were "struggling to defend her" anymore.
"Lana please wear a real mask i'm begging you be safe," one fan wrote, while another added: "ok miss republicana del rey."
Other comments included, "Girl thats not a mask. you make good music but poor decisions," and a former super-fan even pointed out: "Thank you for showing me that you give zero f*cks about protecting your fans, those of us who love you. I'm so embarrassed for you and hope you change your thinking so I can support you again in the future."
However, others have leapt to the Norman F*cking Rockwell singer's defence, adding that the mask could have a clear protective layer underneath that can't be seen in the photos.
The fact that no one even knows what it's made out of, there is such a thing as sheer and clear fabrics... have you not seen the abundance of see through masks that STILL do the same job as other fabrics. GASP.

— Green Soul Goddess (@greensoulgoddes) October 3, 2020
In reports from The Independent, Lana's sister, Caroline Grant, had been responding to the hate comments on Instagram claiming that her famous sibling had tested negative for the virus before the event.
She also claimed that social distancing was in full force at the meet and greet, but this was quickly disproven with all of the fan photos uploaded to social media, where she's clearly hugging and getting very close to people.
Lana is yet to comment on the controversy publicly, but with "Karen Del Rey" nicknames quickly becoming a trend...that has to be enough of a reason to put on a mask.