Lana Del Rey regrets not doing a full verse on Taylor Swift's 'Snow at the Beach'
7 February 2023, 16:52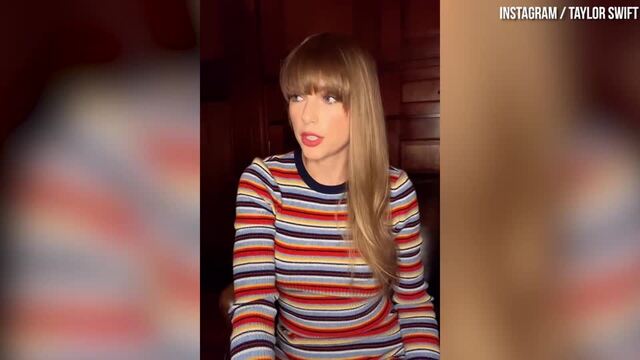 Taylor Swift praises Lana Del Rey as she talks about their collaboration track on new album
Lana Del Rey has opened up about the fact that she only sings backing vocals on 'Snow On the Beach'.
Lana Del Rey' has revealed that she wishes she had sung more on her 'Snow on the Beach' collaboration with Taylor Swift.
Last year, Taylor Swift worked with Lana Del Rey for the first time on their hit collaboration 'Snow on the Beach'. Critics and fans were quick to praise the arresting ballad. However, the duet also inspired an array of savage memes. Lana only sings backing vocals on the song and people struggled to hear her on it. In fact, Lana sings less than 20 words in total.
Now, Lana has opened up about the controversy and let slip that she would have recorded her own verse if she could.
READ MORE: Taylor Swift explains the meaning behind her Snow on the Beach lyrics with Lana Del Rey
Taking to her personal Honeymoon Instagram account, Lana posted a series of photos of her, Taylor, Jack Antonoff and her sister Chuck Grant. Referencing 'Snow on the Beach', Lana captioned it: "I would've sung the entire second verse if I had known, I was the only feature 😱 🙏 buttttt my production skills were on point and Chuck's photo skills are 🔥". Oop.
It's unclear if Lana was told that there would be other singers on the song with her and Taylor or not. However, it sounds like she would have sung more than backing vocals on 'Snow on the Beach' had she been offered the chance. In the official credits, Lana is listed as a writer alongside Taylor and Jack. Meanwhile, Taylor and Jack are listed as producers.
Discussing working with Lana before they released the song, Taylor said: "Lana Del Rey is, in my opinion, one of the best musical artists ever, the fact that I get to exist at the same time as her is an honour and a privilege, and the fact that she would be so generous as to collaborate with us on this song is something I'm gonna be grateful for life."
As a result, many fans assumed that Lana would have a more prominent role on 'Snow on the Beach'.
Taylor Swift ft. Lana del Rey - Snow On The Beach (Official Lyric Video)
Lana isn't the first of Taylor's female collaborators to provide backing vocals on a song of hers. Over the course of her career to date, Taylor has worked with Colbie Caillat, The Chicks, Maren Morris, Haim and Phoebe Bridgers as well as Lana. Out of them, only Phoebe has ever sung more than backing vocals on her music.
As it stands, Taylor has never explained why she tends to relegate her female collaborators to backing vocals. However, in the case of 'Snow on the Beach', Lana's ad-libs really add to the haunting nature of the song.
What do you think? Would you have liked Lana to have a verse on 'Snow on the Beach'?
Lockwood & Co. Cast Interview Each Other | PopBuzz Meets