Lil Nas X signs Addison Rae's boobs in viral TikTok video
21 September 2022, 12:02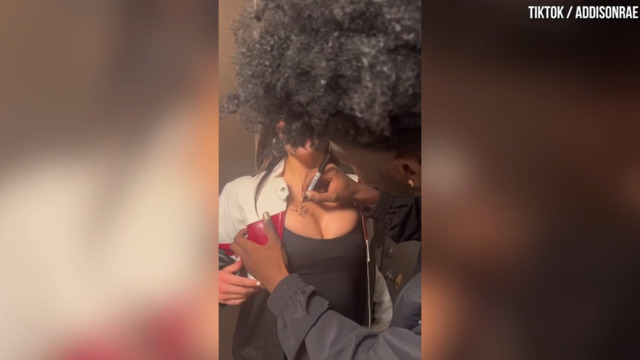 Lil Nas X signs Addison Rae's boobs
Addison Rae posted the video to promote Lil Nas X's new single 'Star Walkin''.
Lil Nas X has signed Addison Rae's boobs ahead of his latest single release.
The 'Industry Baby' rapper is currently in the middle of the U.S. leg of his Long Live Montero tour, playing at iconic music venues including Radio City Music Hall in New York City and the Nashville Municipal Auditorium.
On Sept. 20, Addison Rae took to TikTok to share a clip of the rapper signing her boobs, something that may have taken place backstage at one of his concerts. "Stream starwalkin on Friday," she captioned the post, along with a black love heart emoji.
READ MORE: Kidz Bop's Lil Nas X cover is being called out for removing all the gay references
Fans were thrilled with the latest "collab" between the friends who have often been seen attending events together, including the 2022 MET Gala. "YESSSSS BAE," one person commented on the TikTok video. "When's it my turn? 😂,," said popular TikTok gamer @sushibae.
Lil Nas X's latest single, titled 'Star Walkin'', is part of his ongoing collaboration with League of Legends. Earlier in the month, League of Legends developers Riot Games announced that the two-time Grammy winner will be taking over as the "president" of League of Legends.
"I felt like it was time for me to try something new," said Lil Nas X in a statement. "I've left my mark on pop culture in so many ways, and now it's time to take on the world of gaming." He continued by saying that he will be the "greatest president of League of Legends of all time".
Speaking of his new single 'Star Walkin'', Lil Nas X said: "I'm going to make the best Worlds anthem of all time and put on the biggest, coolest, sexiest Worlds in the history of all Worlds! 'Star Walkin'' is the only song anyone is allowed to listen to from now on."
'Star Walkin'' will be released on Sept. 23, a few days before the Worlds 2022 tournament kicks off.
Read more Lil Nas X news here:
Rina Sawayama Reacts To "Industry Plant" Rumour and Paints A Self-Portrait | PopBuzz Meets