Little Mix open up about their heartbreak in candid 'Break Up Song' lyrics
26 March 2020, 14:14 | Updated: 26 March 2020, 17:31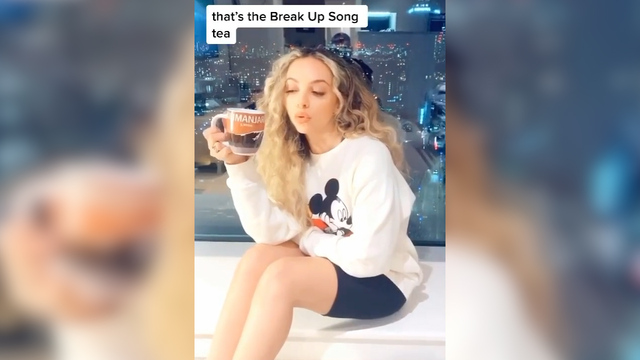 Little Mix release first snippet of 'Break Up Song'
'Break Up Song' is the first single from Little Mix's highly anticipated LM6 era and fans are already calling it one of their best.
Little Mix are back. The girls have released a new 80s inspired anthem named 'Break Up Song' and the lyrics are everything.
Earlier this week (Mar 23), Little Mix took to social media to confirm that they would be releasing the first single from their as-yet-untitled sixth album this Friday. Jade Thirlwall, Jesy Nelson, Leigh-Anne Pinnock and Perrie Edwards released a snippet of the song, alongside a teaser video, in which they all sport iconic 80s style looks, and fans immediately started losing it.
READ MORE: 15 times Little Mix proved girl power is alive and well
The song is due to come out at midnight in every country tonight (Mar 27), which means that it's already out in certain parts of the world. And, not only are people calling it one of Little Mix's best songs ever, but they're also living for the lyrics.
'Break Up Song' is a song about finally putting your heartbreak behind you. In the pre-chorus, Jesy sings: "I'll be good all by myself / Yeah I'll find a way to dance without you / In the middle of the crowd / I'll forget all of the pain inside". And then in the post-chorus, they all sing: "Ain't no more tears / Ain't gonna cry / Boy I'll do anything to get you off my mind".
Things get even more personal in the second verse. Perrie sings: "I ain't even gonna call ya, no baby / The best thing I ever did was to let you go / Did you think you were the only one who could save me? / I ain't gonna take you back, like I did before". Like many of the best Little Mix songs, 'Break Up Song' is melodramatic but also highkey relatable.
The whole song is hook after hook after hook and it's tied together by the girl's flawless vocals and harmonies. It gives off the fun of 'Black Magic', with the emotion of 'No More Sad Songs'. On top of that, it also sounds as current as other '80s-esque singles right now, like Dua Lipa's 'Physical' and The Weeknd's 'Blinding Lights'.
Naturally, Mixers are already living for it. One person tweeted: "I COULD CRY BREAK UP SONG IS SO GOOD". Another added: "Break up song reminds me of no more sad songs but it's even better AND NMSS IS MY FAV SONG".
dancing around my room to Break Up Song and MY GOD, it's better than I remember it being, the big vocal moment from Jade!!!!🚨

— sachin (@sachindattani) March 26, 2020
bREAK UP SONG. THATS IT. THATS THE MOTHERFUCKING TWEET. #BreakUpSong

— bitch is claiming track 7 of lm6 (@meviebarrydofia) March 26, 2020
Break up song reminds me of no more sad songs but it's even better AND NMSS IS MY FAV SONG

— Nab (@nabba3e) March 26, 2020
Move? ahead of its time. touch? the superior pop song of our generation. no more sad songs? a masterpiece. and now break up song is coming to steal all those titles. little mix is the best pop girlgroup, literally no one is touching them on this PERIODT. pic.twitter.com/5njLQSD7NY

— maria⁷ (@joonswasabl) March 25, 2020
We have no choice but to stan.
Little Mix - 'Break Up Song' lyrics
VERSE 1 - Leigh-Anne
This is not a second chance no, no baby
This is not a new romance not tonight (uh uh uh)
This is for all the nights I cried for ya baby
Hoping you could be the one that could love me right
PRE-CHORUS - Jesy
I'll be good all by myself
Yeah I'll find a way to dance without you
In the middle of the crowd
I'll forget all of the pain inside, oh
CHORUS - All
So tonight I'll sing another
Another break up song
So turn it up, let it play on and on and on and on
For all the times they screwed us over
Let it play on and on and on
Just another break up song

POST-CHORUS - All
Ain't no more tears
Ain't gonna cry
Boy I'll do anything to get you off my mind
I'm gonna dance Under the lights
Boy I'll do anything to get you off my mind

VERSE 2 - Perrie
I ain't even gonna call ya
No baby
The best thing I ever did was to let you go (uh uh uh)
Did you think you were the only one who could save me?
I ain't gonna take you back like I did before, no
PRE-CHORUS - Jesy
Cos I'll be good all by myself
Yeah I'll find a way to dance without you
In the middle of the crowd
I'll forget all of the pain inside, oh
CHORUS - All
So tonight I'll sing another
Another break up song
So turn it up, let it play on and on and on and on
For all the times they screwed us over
Let it play on and on and on
Just another break up song
POST-CHORUS - All
Ain't no more tears
Ain't gonna cry
Boy I'll do anything to get you off my mind
I'm gonna dance
Under the lights
Boy I'll do anything to get you off my mind
MIDDLE EIGHT - Jade
I don't wanna turn back time
Cos what's another lonely night?
I know under these lights I'm good without you
For all those tears that I cried
I sing it louder tonight
Let it play on and on and on and on and on
CHORUS - All
So tonight I'll sing another
Another break up song
So turn it up, let it play on and on and on and on
For all the times they screwed us over
Let it play on and on and on
Just another break up song
OUTRO - All
I don't wanna turn back time
Cos what's another lonely night?
I know under these lights I'm good without you
For all those tears that I cried
I sing it louder tonight
Let it play on and on and on
Just another break up song