Lizzo responds to sexual harassment and body-shaming allegations lawsuit
3 August 2023, 12:31 | Updated: 3 August 2023, 12:38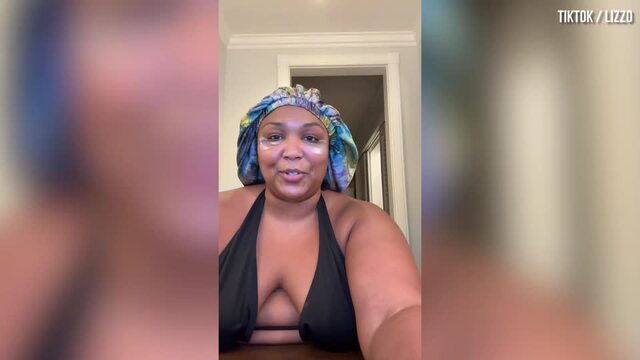 Lizzo posts a get ready with me video
A lawsuit has been filed against Lizzo claiming she created a hostile work environment and pressured her staff at afterparties.
UPDATE: Lizzo has now responded to the allegations with a statement on on social media.
In the statement, Lizzo has denied the allegations.
She writes: "These last few days have been gut wrenchingly difficult and overwhelmingly disappointing. My work ethic, morals and respectfulness have been questioned. My character has been criticised. Usually I choose not to respond to false allegations but these are as unbelievable as they sound and too outrageous not to be addressed".
Lizzo added: "It's never my intention to make anyone feel uncomfortable or like they aren't vauled as an important part of the team."
She also wrote: "There is nothing I take more seriously than the respect we deserve as women in the world. I know what it feels like to be body shamed on a daily basis and would absolutely never criticise or terminate and employee based on their weight."
Lizzo ended by writing: "I am hurt but I will not let the good work I've done in the world be overshadowed by this. I want to thank everyone who has reached out in support during this difficult time."
Three of Lizzo's former dancers have come forward and accused the singer of sexual harassment and shaming their weight.
Yesterday (Aug 1), NBC News reported that dancers Arianna Davis, Crystal Williams and Noelle Rodriguez, two of whom had competed on Lizzo's acclaimed Watch Out for the Big Grrrls reality competition, had filed a lawsuit against Lizzo. According to documents, the women are suing Lizzo over claims of "sexual harassment and creating a hostile work environment".
The dancers have also made several serious claims against Lizzo's current dance captain Shirlene Quigley in the lawsuit.
READ MORE: Lizzo claps back at backlash to her Star Wars cameo in The Mandalorian
In the suit, it's been claimed that Lizzo often held afterparties on tour and would favour dancers who would attend them.
At one afterparty in Amsterdam, Lizzo has been accused of coercing one of her dancers to touch a woman's breasts at a strip club despite the dancer making clear that they did not want to do it. It's also been claimed that Lizzo encouraged dancers to eat bananas "protruding from the [strip club] performers' vaginas".
On top of that, Lizzo has also been accused of taking her dancers to a nude cabaret bar in Paris with the suggestion that "they would be able to learn something or be inspired by the performance". However, she allegedly did not inform the dancers that it was a nude bar.
The suit also claims that Lizzo made a "thinly veiled" comment about a dancer's weight gain. She later fired said dancer when she had learned that she had recorded one of their meetings while suffering an eye condition.
The suit says: "Lizzo became furious, hurling expletives at the group and stated she was going to go around the room, person-by-person until someone told Lizzo who made the recording."
Elsewhere, Lizzo has been accused of overworking her dancers. Lizzo allegedly made her dancers re-audition in an "excruciating" 12-hour rehearsal in which one soiled themselves.
Lizzo's Special Tour ended in Japan on July 30th.
On top of the accusations against Lizzo, Lizzo's dance captain Shirlene Quigley has been accused of trying to convert other dancers to Christianity, slating dancers for having pre-marital sex and even discussing masturbation and sexual fantasies with the group.
Lizzo is yet to address the accusations but Shirlene has now posted a video in which she says: "I feel so full of joy. I had such an amazing time on tour with amazing people....I just wanted to tell everyone that God loves you and I love you."
Read more Lizzo news here:
The Witcher Cast Interview Each Other | PopBuzz Meets