Lizzo appears to clap back at Kanye West's comments about her weight
10 October 2022, 11:58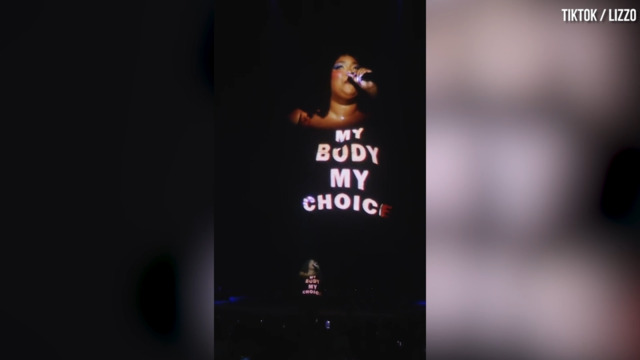 Lizzo makes pro-abortion statement in concert
Kanye West made fatphobic comments about Lizzo in a Tucker Carlson interview.
Lizzo has seemingly responded to Kanye West's comments about her weight in a powerful new speech on her Special tour.
Last week (Oct 6), Kanye West faced backlash for making fatphobic comments about Lizzo in a Tucker Carlson interview. He stated: "When Lizzo loses 10 pounds and announces it, the bots on Instagram, they attack her losing weight, because the media wants to put out a perception that being overweight is the new goal when it's actually unhealthy. It's demonic."
Now, Lizzo has appeared to clap back at Kanye by calling out anyone who has her "motherfucking name" in their mouth.
READ MORE: Lizzo says she didn't think she was "desirable" enough to be a pop star
Performing at the Scotiabank Arena in Toronto, the day after Kanye's remarks (Oct 7), Lizzo paused her set to say: "I feel like everybody in America got my motherfucking name in their motherfucking mouth for no motherfucking reason. I'm minding my fat Black beautiful business. Can I stay here? Who can I marry for that dual citizenship?"
Lizzo's remarks come in the wake of multiple controversies for Kanye. Ahead of his Tucker Carlson interview, Kanye came under fire for including 'White Lives Matter' shirts in his Yeezy show. The 45-year-old artist has since been slammed for multiple antisemitic social media posts.
Twitter locked Kanye's account Sunday after removing a tweet that contained an anti-Semitic comment, and Meta restricted his Instagram account after he suggested that Diddy was controlled by Jewish people.
Kanye West exclusive: Rapper tells Tucker Carlson story behind White Lives Matter shirt
Kanye is yet to apologise for his comments. We shall update you if he does.
Read more Lizzo stories here:
Drag Race UK's Starlet Says She Meant "No Disrespect" To Judges Following Dramatic Exit