Lorde Just Invited A Fan To The Governors Ball And Everyone Is Shook
31 May 2017, 11:25 | Updated: 31 May 2017, 11:32
Is this the luckiest fan on the planet?
It's a pretty well documented fact that Lorde is extremely chill. She has been known to chat with fans and doesn't have a reputation for having a bad attitude. A fan named Emely got to witness Lorde's chillness first hand when she served her in a New York smoothie shop called Liquiteria.
Of course, Emely did what we would all do in that scenario.
She tweeted a video of the run in with the talented singer. Lorde and Emely look like old pals just having a laugh as the singer smiles and waves.
She made my morning @lorde pic.twitter.com/n42nLpICVy

— Ayesha mangú (@ThatEmely) May 29, 2017
"She made my morning," Emely tweeted. Lorde got a blue velvet smoothie and Emely was understandably "shook".
That would have been an awesome story on its own, but Lorde had to go and increase Emely's levels of shookness.
Woke up trying to figure out if last night was a dream or real life... pic.twitter.com/IOFrEyxOT8

— Ayesha mangú (@ThatEmely) May 30, 2017
Lorde DM'd Emely to invite her to the annual Governor's Ball, a pop music festival that draws hugely popular acts each year. At first Emely was shocked and wanted to make sure Lorde wasn't joking.
Lorde explained that she wanted to help Emely celebrate her new job by bringing her along to one of the biggest musical events of the year.

via twitter/@ThatEmely
Emely tweeted her reaction to receiving the messages and, honestly, we'd have the same one.
via twitter/@ThatEmely
Congrats to Emely for getting the chance of a lifetime and congrats to Lorde for being nice and great.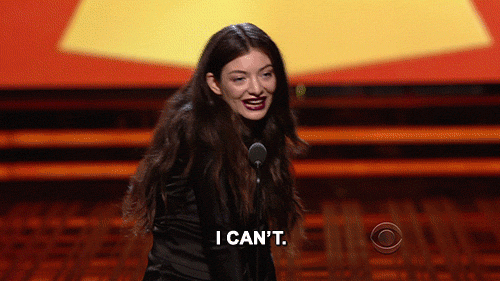 ____ ____ ____ ____ ____
Listen to the Election Edition of the #PopBuzzPodcast right here or subscribe for free on iTunes to get new episodes sent straight to your phone every Friday.