Lorde Is Totally Done With Your Yacht
4 January 2016, 11:05 | Updated: 8 May 2017, 17:09
Or something like that.
The best kind of news is no news disguised as news, AMIRITE? Well it doesn't get much better than this, chums.
New Zealand pop princess Lorde was at the centre of a shady sh*t-storm when she posted a Instagram picture which appeared to take aim at known-celibate Harry Styles and his rumoured girlfriend Kendall Jenner. Here's what all the fuss what about:

While we've been stuffing our faces with leftover turkey sandwiches, Styles and Jenner have been seeing in the new year on a fancy yacht in St Barthes with some celebrity pals (including Ellen DeGeneres and Portia de Rossi, of all people).
As pictures flooded the internet of the happy couple on holiday (because nobody has anything better to do than look at pictures of rich people on a boat) Lorde decided to post the clearly self-deprecating post (above).
Naturally, sh*t hit the fan.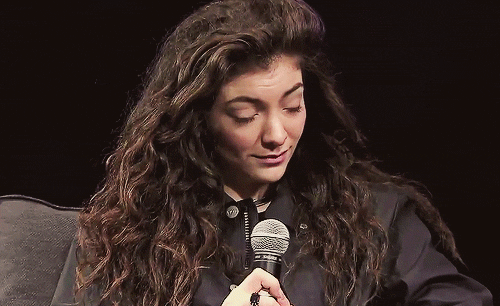 giphy.com
Some people thought she had a case of sour grapes, as well as taking a dig at Harry because she is a close friend of Harry's ex girlfriend, Taylor Swift.
Yawn. It all sounds terribly predictable doesn't it? As if Lorde, a very successful musician, couldn't afford to take a yacht. Or indeed, that she would be so petty to criticise someone's holiday photos on a social media site. It's a bit desperate but, hey, that's what happens when journalists have nothing to write about over new years. Tbh we're milking this story for every last word we can get.
Lorde cleared it up with an updated caption under the photo.
"lol no 'shade' folks", she wrote. "If I were on an island or in even nearish proximity to a yacht you be hearing all the fuck about it just making fun of my own lameness".
We're exactly the same, hun. Give us a rubber ring and we'll start taking selfies like we're on the QE2.
And so that was the time Lorde was totally done with your yacht. Now, can we have some proper news now, 2016?
dailydoseoffangirl.wordpress.com