Louis Tomlinson Has An "Emotional Ballad" On His New Album And It'll Ruin You
1 December 2017, 13:36
Louis reckons this ONE song will be the fandom's favourite.
In case you haven't heard, Tommo himself has returned to the PopBuzz Podcast. Yes, Louis Tomlinson sat down in the studio to discuss his brand new single 'Miss You' and attempted to tease details about his debut album without giving too much away.
That being said, Louis did happened to reveal that he's got a few songs on the record that he thinks his fans will absolutely love. One of them was his brand new single, 'Miss You' which he said is a "really good advert for the album" and a taste of what's to come (think a bit more guitar, a bit more grit and a few more bangers that'll sound absolutely amazing when he heads off on tour to perform them live.)
And the other is much MUCH a more personal song. To be honest, the whole album sounds incredibly personal anyway ("I'm excited for them to hear the album and the lyrics, hopefully they'll learn something about me from them,") but there's one in particular that he thinks fans will really like.
"There's one ballad in particular that's pretty emotional, pretty raw... I've got a feeling they might like that one."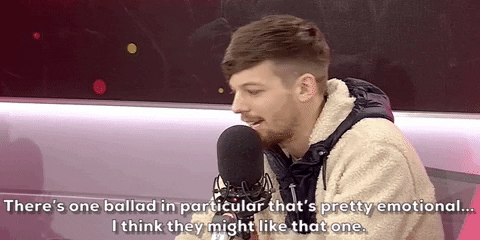 PopBuzz
Honestly, get you a man who can do both ballads and bangers. Can't wait to see what Louis does next. That ol' solo career of his is shaping up to be iconic.
Listen to the FULL interview below, our chat with Louis starts at 14m 42s.