Megan Thee Stallion opens up about depression in powerful Cobra lyrics
3 November 2023, 12:17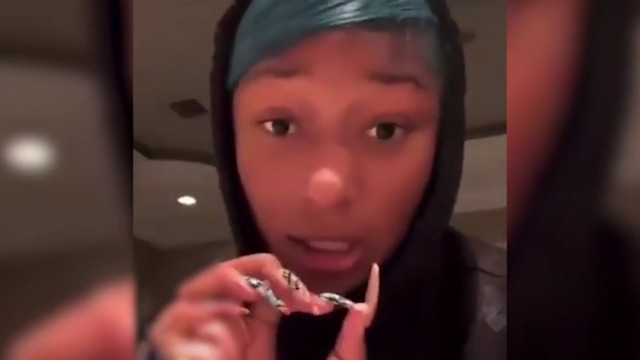 Megan Thee Stallion accuses Canadian rapper Tory Lanez of shooting her in the foot
What are Megan Thee Stallion's Cobra lyrics about? The powerful meaning explained.
Megan Thee Stallion has addressed the Tory Lanez shooting and the depression she experienced in her new 'Cobra' lyrics.
Over the course of the past few years, Megan Thee Stallion has become one of the most successful rappers in music today. However, she's also experienced more trauma that most people experience in a lifetime. In 2019, Megan's mother passed away, then, she revealed that she was trapped in a restrictive label contract, and in 2020, Tory Lanez shot her in the foot.
It wasn't until August 2023 that Tory Lanez was sentenced to 10 years in prison for shooting Megan. All the while, many of Megan's peers, including Drake, made light of the incident and questioned whether she was even telling the truth. Now, Megan has opened up about how these things affected her in her powerful new single 'Cobra.
READ MORE: Megan Thee Stallion slams Drake for saying she lied about being shot in his Circo Loco lyrics
In the opening verse of 'Cobra', Megan calls out people for not being there for her while she was going through some of the toughest experiences of her life. She raps: "Breakin' down and I had the whole world watchin' / But the worst part is really who watched me / Every night I cried, I almost died / And nobody close tried to stop me."
Megan then opens up about feeling suicidal. She states: "Yes, I'm very depressed / How can somebody so blessed wanna slit they wrist?" and "Damn, I got problems / Never thought a bitch like me would ever hit rock bottom / Man, I miss my parents, way too anxious, always cancel my plans."
Elsewhere, Megan calls out an ex for cheating on her: "Pulled up, caught him cheatin', gettin' his dick sucked in the same spot I'm sleepin'." It's unclear if she's rapping about her former boyfriend Pardison Fontaine, who she broke up with this year, or another ex.
She also raps: "Honestly it kinda feel like you plottin', watchin' / Why is you speakin' on me at my lowest when you acted like you ain't noticed? / I was trippin', goin' crazy / And they lowkey hatin', so they ain't gon' say shit."
Megan Thee Stallion - Cobra [Official Video]
Talking to Elle this year about the shooting, Megan said: "Even some of my peers in the music industry piled on with memes, jokes, and sneak disses, and completely ignored the fact that I could have lost my life. Instead of condemning any form of violence against a woman, these individuals tried to justify my attacker's actions."
'Cobra' is the first single from Megan's anticipated third album.
Megan Thee Stallion - 'Cobra' lyrics
INTRO
(B-B-Bankroll Got it)
Ayy
VERSE 1
Breakin' down and I had the whole world watchin'
But the worst part is really who watched me
Every night I cried, I almost died
And nobody close tried to stop me
Long as everybody gettin' paid, right?
Everything'll be okay, right?
I'm winnin', so nobody trippin'
Bet if I ever fall off, everybody go missin'
At night, I'm sittin' in a dark room thinkin'
Probably why I always end up drinkin'
Yes, I'm very depressed
How can somebody so blessed wanna slit they wrist?
Shit, I'd probably bleed out some Pinot
When they find me, I'm in Valentino, ayy
He pourin' me shots, thinkin' it's lit
Hah, little did he know
CHORUS
This pussy dеpressed, hmm, I'm about to stress him, yеah
Pink nails 'round his neck, huh, but this ain't domestic, ayy
Think it's goin' down, hah, now he stand corrected, ayy
This pussy depressed, hmm, I'm about to stress him, ah
VERSE 2
Ayy, damn, I got problems
Never thought a bitch like me would ever hit rock bottom
Man, I miss my parents, way too anxious, always cancel my plans
Pulled up, caught him cheatin', gettin' his dick sucked in the same spot I'm sleepin'
Lord, give me a break, I don't know how much more of this shit I can take (Ayy)
How long you been worried 'bout me, tellin' people that's not me?
Honestly, it kinda feel like you plottin', watchin'
Why is you speakin' on me at my lowest when you acted like you ain't noticed?
I was trippin', goin' crazy
And they lowkey hatin', so they ain't gon' say shit
Damn, I finally see it
I'm killin' myself when bitches would die to be me
CHORUS
This pussy depressed, hmm, I'm about to stress him, yeah
Pink nails 'round his neck, huh, but this ain't domestic, ayy
Think it's goin' down, hah, now he stand corrected, ayy
This pussy depressed, hmm, I'm about to stress him, ah
BRIDGE
I ain't goin', yeah, no emotion, ayy
Back outside, yeah, back in motion, ayy
He keep callin', hmm, I ignore it (Ayy)
He say I'm crazy, hmm, don't I know it, ah
Madison Beer Explains Every Song On 'Silence Between Songs' | Making The Album