13 Secret References You (Probably) Didn't Notice In Melanie Martinez's Music Videos
2 December 2016, 13:42 | Updated: 8 May 2017, 17:09
How many of these have you caught?
Whenever we get the chance, we like to kick back and explore the world wide web of eagle eyed fans noticing things in Melanie Martinez's videos we'd never even thought twice about.
1) Queen Melanie loves a bit of subtlety.
2) "Sippy Cup" and "Alphabet Boy" occasionally mirror each other...

3) Pouring stuff into other stuff is an aesthetic we're into...
"Sippy Cup"



"Milk and Cookies

4) Location, location, location...
Melanie recorded the Tag, you're it/Milk and Cookies at the same spot she recorded for Pity Party #melaniemartinez

— MelanieMartinezNews (@TeamMelanie_M) August 24, 2016
before : Pity Party
after : #TagYoureItxMilkAndCookies@MelanieLBBH pic.twitter.com/wFgSWvh9Kw

— Activated // Cher L. (@WhaaatTheFuuuck) August 23, 2016
5) YA'LL ARE SHADY FOR THIS (but, lowkey: yes).
IGGY AZALEA IN THE NEW MELANIE MARTINEZ MUSIC VIDEO TAG YOURE IT/MILK AND COOKIES pic.twitter.com/jZXu16JHiy

— Sam (@UniversamYT) August 23, 2016
6) You are what you eat. Ice cream dreams everywhere.

7) Ooop, there goes that knife again.
via "Tag, you're it"


8) Iconic.
ok I was really shook when Mel pulled the cookies out of a 350F oven with her bare hands #TagYoureItxMilkAndCookies pic.twitter.com/WnbCwtdQZe

— elixcx (@sadnthirsty) August 23, 2016
9) Girl, you better work that continuity!
one of the best videos yet #TagYoureItxMilkAndCookies pic.twitter.com/TcgFCFbnmY

— eve misses tøp (@sugarkisshxrry) August 23, 2016

10) *Mind immediately wanders to American Horror Story because it always does*.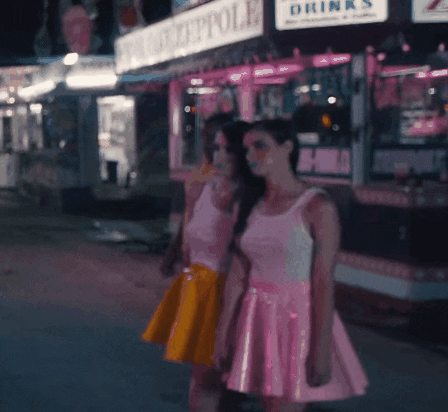 "Carousel"


11) In the video for 'Mrs. Potato Head' there is a major reference to 'Sippy Cup'.
The advert at the beginning is for diet pills, which is a reference to the 'Sippy Cup' line: "Pill diet, pill diet, if they give you a new pill then you will buy it / If they say to kill yourself, then you will try it".
12) And then there's the milk and cookies she eating too.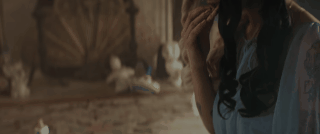 13) The choice of wig in the 'Mrs. Potato Head' might not be accident either.
melanemartinez.tumblr
Might it, in fact, be a nod to the character in the Pacify Her video? WE. THINK. SO.
melanemartinez.tumblr
Spot any more references in the video? Let us know your conspiracies in the comments.