Melanie Martinez Second Album: Everything We Know So Far
16 August 2017, 10:21 | Updated: 7 December 2017, 17:02
All the latest information about Melanie Martinez' second album.
UPDATE 07/12/17
Melanie's record company and press representatives are yet to release a statement following the recent allegations of sexual assault made against her. We will bring you any further information as we get it.
ORIGINAL POST
Melanie Martinez is back in the recording studio, hard at work on the long awaited follow up to her 2015 debut Cry Baby. The singer tweeted an update earlier in the year (February 1st) confirming that she was getting back to work alongside her producer and boyfriend Michael Keenan.
stepping out the toy cave to finish up album 2 vocals at the studio w @michaelkeenanpic.twitter.com/HzDG1TyxcP

— CRYBABY (@MelanieLBBH) February 1, 2017
Michael also gave his own update, clearly delighted with how the sessions are progressing.
Very very fulfilling and fun. https://t.co/LOR9QplnLV

— Michael Keenan (@michaelkeenan) February 2, 2017
Keenan previously worked on the tracks 'Gingerbread Man' and 'Play Date' on 2016's bonus record Cry Baby's Extra Clutter. So, what can we expect from Melanie's sophomore effort? Let's round up all the information we have so far:
It will come with an accompanying movie!
As with the first album, Melanie's new record with have a strong visual element. She was tweeted several times this year in reference to a film that she is writing along side the album.
writing this film for the second record everyday, putting all my energy into that aswell as finishing up bonus tracks pic.twitter.com/x9E0j3wJ7D

— CRYBABY (@MelanieLBBH) May 4, 2017
lots of positive energy flowing through me. this weekend has been very productive. currently writing and recording pic.twitter.com/BDhbXGXA1W

— CRYBABY (@MelanieLBBH) March 20, 2017
And then, in an interview with Billboard, Melanie confirmed the news and gave a few details about what to expect from her new film project:
"It's all of the videos together of the next record, all thirteen, with dialogue and whatnot in between connecting all of them together. and I'm directing it and writing it and styling it and doing the makeup...The film is really a huge priority of mine, because it's really important to me that people can truly understand the sentiment and the story when they hear the record for the first time, and I really want people to be able to follow along properly."
Will Cry Baby return?
As she told us when we chatted with her during her UK tour last year, Melanie is expanding the world of her iconic title character. The story this time will be set in the surrounding town as we meet Cry Baby's neighbours and extended family members. Exciting!
It's all brand new material (obviously).
Melanie Martinez, Instagram
As Melanie wrote in the above Instagram post, despite an abundance of older material that has been sought out by fans, the new album's theme will require all-new songs and lyrics. And, as confirmed in a tweet above, the new album will come with a bonus package with extra tracks.
It will sound very different!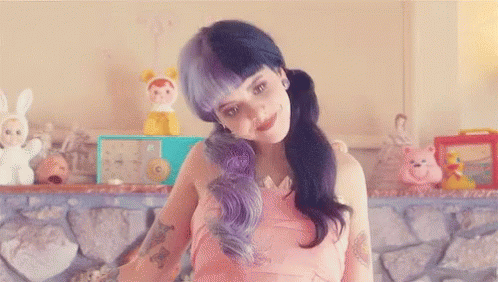 Melanie Martinez, Giphy
In previous interviews, Melanie has hinted at some hip hop influences as well as the use of "vintage squeak toys" and an overall darker sound, tackling topics including mental health and school friendships falling apart. There will also, reportedly, be no collaborations on the record with everything narrated by Cry Baby.
Some lyrics have been leaked already.
Melanie has already posted several lines from new songs via Instagram comments which were frantically jumped on by fans after they were swiftly deleted. Here was one post:
If you can't handle a heart like mine
Don't waste your time with me
If you're not down to bleed. No oh.
If you can't handle
The choking the biting the loving the smothering till you can't handle it no more.
Go home...
Come to my house, let's cry together
Friendship that would last forever."
Will these make the final cut? Only time will tell.
New album release date?
With the record now officially completed and the bonus tracks being mastered, all the signs are looking good for a new album in early 2018. Only a few months left now!