All the savage Liam Hemsworth references in Miley Cyrus' Flowers lyrics and video
13 January 2023, 12:22 | Updated: 20 January 2023, 14:08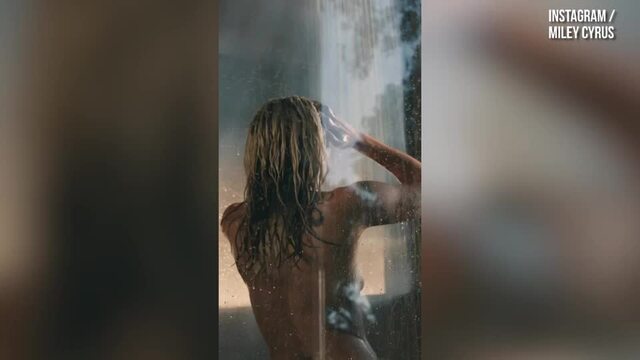 Miley Cyrus sings Flowers in the shower
To rub salt in the wound, Miley Cyrus has released 'Flowers' on Liam Hemsworth's birthday.
Miley Cyrus fans are living for her savage 'Flowers' lyrics and video in which she calls out her ex-husband Liam Hemsworth.
Miley Cyrus is back! Following her critically-acclaimed Plastic Hearts era, the 30-year-old star has announced that her eighth studio album Endless Summer Vacation will be released on March 13th. In a press release, Miley has described the project as a "love letter to L.A." and revealed that she has worked with the likes of Kid Harpoon and Mike Will Made It on it.
Now, the album's lead single 'Flowers' is here and fans think it contains multiple easter eggs aimed at Liam Hemsworth.
READ MORE: Every song Miley Cyrus has written about Liam Hemsworth
Miley Cyrus - Flowers (Official Video)
1) The song references Miley and Liam's house being burned down
'Flowers' is a classic kiss-off anthem in which Miley sings about being better off single than she was in a relationship. In the post-chorus, Miley sings: "Can love me better, I can love me better, baby." While it could technically be about anyone, fans have noticed that there are multiple lyrics which appear to directly reference her relationship with Liam Hemsworth.
In the first verse of the single, Miley sings: "We were good, we were gold / Kind of dream that can't be sold / We were right 'til we weren't / Built a home and watched it burn". The last line seemingly alludes to the fact that Miley and Liam's home actually did burn in the Woolsey fires in 2018. Liam posted a photo of what was left of their house on Instagram.
2) 'Flowers' mirrors Bruno Mars' 'When I Was Your Man'
However, it's in the song's chorus that Miley really drives her point home. She sings: "I can buy myself flowers / Write my name in sand / Talk to myself for hours, yeah / Say things you don't understand / I can take myself dancing, yeah / I can hold my own hand / Yeah, I can love me better than you can."
Those may sound like pretty standard break-up lyrics but eagle-eyed fans have noticed that the lyrics actually mirror the chorus of Bruno Mars' 'When I Was Your Man'. Back in 2013, Liam reportedly dedicated the song to Miley and often referenced it in their relationship.
On 'When I Was Your Man', Bruno famously sings: "That I should've bought you flowers / And held your hand / Shoulda gave you all my hours / When I had the chance / Take you to every party / 'Cause all you wanted to do was dance."
3) Miley recreates a red carpet moment in the video
Throughout Miley and Liam's relationship, fans noticed that Liam often seemed visibly annoyed at Miley being Miley on the red carpet. One of those moments, involved Miley dancing and grinding on Liam during an Access Hollywood interview at Vanity Fair's Oscars party. In the opening scenes of the 'Flowers' music video, Miley does that exact same dance.
She truly can take herself dancing!
Fans think Miley Cyrus is shading her ex Liam Hemsworth in her 'FLOWERS' teaser as she references the infamous Access Hollywood carpet moment.

The track will drop on the same day as Liam's birthday, January 13th. https://t.co/P9GIpcwC6K

— Buzzing Pop (@BuzzingPop) January 4, 2023
4) Miley references her and Liam's pilates era
Back in 2015, paparazzi photos of Miley and Liam attending pilates classes together often broke the internet. The 'Flowers' video references this era by containing a whole sequence in which Miley works out in similar attire but this time alone and stronger. It's a subtle nod to the fact that Miley is better off doing what she used to do with Liam alone.
To add to the metaphor, Miley changes from a dress at the start of the video to a suit at the end of the video. It's clear who wears the trousers now.
5) Miley released the song on Liam's birthday
The biggest Liam Hemsworth easter egg in 'Flowers' actually has nothing to do with the lyrics or video. In a very iconic petty move, Miley has released 'Flowers' on Liam's own birthday. Yes, today, Liam has turned 33-years-old and, to celebrate the occassion, Miley has put out a song in which she sings about how she can love herself better than Liam can.
Never change, Miley!
Miley releasing this single on Liam's birthday and listing Sydney as the first time zone release… chef's kiss https://t.co/B0McdoG7Co

— Depressed Demon Nightmare Girl (Taylor's Version) (@kmhinnan) January 9, 2023
As it stands, Liam is yet to address the song. We shall update you if he does.
Miley Cyrus - 'Flowers' lyrics
VERSE 1
We were good, we were gold
Kind of dream that can't be sold
We were right 'til we weren't
Built a home and watched it burn
PRE-CHORUS
Mmm, I didn't wanna leave you, I didn't wanna lie
Started to cry, but then remembered I
CHORUS
I can buy myself flowers
Write my name in the sand
Talk to myself for hours
Say things you don't understand
I can take myself dancing
And I can hold my own hand
Yeah, I can love me better than you can
POST-CHORUS
Can love me better, I can love me better, baby
Can love me better, I can love me better, baby
VERSE 2
Paint my nails cherry-red
Match the roses that you left
No remorse, no regret
I forget every word you said
PRE-CHORUS
Ooh, I didn't wanna leave, baby, I didn't wanna fight
Started to cry, but then remembered I
CHORUS
I can buy myself flowers
Write my name in sand
Talk to myself for hours, yeah
Say things you don't understand
I can take myself dancing, yeah
I can hold my own hand
Yeah, I can love me better than you can
POST-CHORUS
Can love me better, I can love me better, baby
Can love me better, I can love me better, baby
Can love me better, I can love me better, baby
Can love me better, ooh, I
BRIDGE
I didn't wanna leave you, I didn't wanna fight
Started to cry, but then remembered I
CHORUS
I can buy myself flowers (Uh-huh)
Write my name in the sand (Ooh, mmm)
Talk to myself for hours (Yeah)
Say things you don't understand (Better than you)
I can take myself dancing (Yeah)
I can hold my own hand
Yeah, I can love me better than
Yeah, I can love me better than you can
POST-CHORUS
Can love me better, I can love me better, baby (Uh)
Can love me better, I can love me better, baby (Than you can)
Can love me better, I can love me better, baby
Can love me better, I
Margot Robbie & Diego Calva Pick Their Own Interview Questions | Babylon | PopBuzz Meets