Miley Cyrus is selling a real golden g-string as part of her Plastic Hearts merch
30 November 2020, 11:58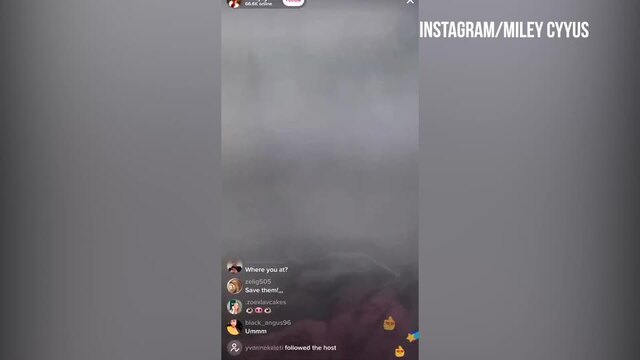 Miley Cyrus pranks Iggy Azalea
Perfect, we'll take 10.
Miley Cyrus' seventh studio album Plastic Hearts is finally here and it's truly everything. From 'Midnight Sky' to 'Prisoner' Miley is back to her best, but there's one song we can't stop thinking about… 'Golden G String'.
It's the twelfth track on Miley's album and the inspiration behind her new merch. Yes, Miley is actually selling gold g-strings.
The golden g-strings are available on her website (mileyspace.com) and feature metallic stretch fabric encrusted with diamanté studs. It comes in two sizes – S-M or M-L – and retails for $30. If you're not quite ready to rock the golden g-string yet, Miley is also selling a beach body t-shirt with a bikini-clad body painted on the shirt (golden g-string and all...) which retails for $50.
READ MORE: Every Miley Cyrus Plastic Hearts lyric about Liam Hemsworth
'Golden G String' was actually written back in 2017 or 2018 and, surprisingly, it's nothing to do with underwear. Apparently it's "reflective of Donald Trump as president and the men hold all the cards".
Speaking to Apple Music 1's Zane Lowe on Monday (Nov 23), Miley said: "This song, which is also about kind of the cross I've had to bear, in a way, of saying, 'I feel like everything that I've done has just been up for all the opinions and I guess people being offended and all this shit.
"But it's like our president grabs women by the, and you're mad at me. I'm a pop star. I'm supposed to do these things. I'm supposed to do things that sometimes make you uncomfortable or you take offence. That's kind of my job, that's entertainment. I don't want that in a leader. I consider myself a leader, but I would say that actually is creating the country that we're going to live in. You don't want an entertainer.
"I have no desire to be president because I have only a desire to create art and to be an artist. And I want to do what I do. And I think that there's an idea that I've focused on of mastery, of finding the thing that you love and becoming the best at it. You can't be everything."
Here's the 'Golden G String' lyrics.
I woke up in Montecito
I was thinkin' about my life
And the questions made more questions
Starin' out into the night
Yes, I've worn the golden G-string
Put my hand into hellfire
I did it all to make you love me and to feel alive

Oh, that's just the world that we're livin' in
The old boys hold all the cards and they ain't playin' gin
You dare to call me crazy, have you looked around this place?
I should walk away
Oh, I should walk away
But I think I'll stay

There are layers to this body
Primal sex and primal shame
They told me I should cover it
So I went the other way
I was tryin' to own my power
Still I'm tryin' to work it out
And at least it gives the paper somethin' they can write about

And oh, that's just the world that we're livin' in
The old boys hold all the cards and they ain't playin' gin
And you dare to call me crazy, have you looked around this place?
I should walk away
Oh, I should walk away
But I think I'll stay

So the mad man's in the big chair
And his heart's an iron vault
He says "If you can't make ends meet, honey, it must be your fault"
We all focus on the winners
And get blinded by their shine
Maybe caring for each other's just too 1969

But oh, that's just the world that we're livin' in
The old boys hold all the cards and they ain't playin' gin
And you dare to call me crazy, have you looked around this place?
I should walk away
Oh, I should walk away
But I think I'll stay

And I think I'll stay, yeah
I have too much to lose
So I think I'll stay
I can't walk away