Miley Cyrus is no longer vegan and people are fuming
7 September 2020, 13:16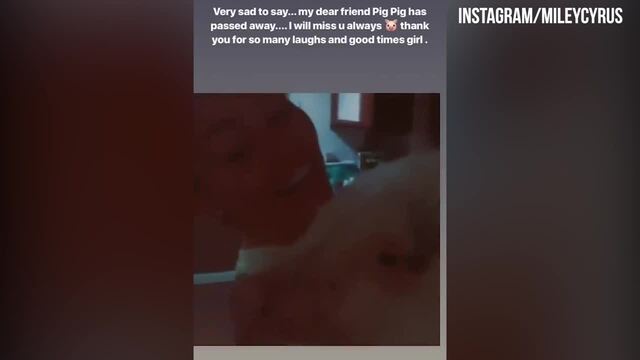 Miley Cyrus posts tribute to her pet pig following its death
Miley has been accused of appropriating vegan culture and even "faking" being vegan.
Miley Cyrus has received backlash after announcing that she's no longer vegan because of the negative impact it had on her health.
The 'Midnight Sky' singer is a well-known animal lover, rescuing several animals (she has 44 pets!!) over the years, and becoming vegan in 2013. But during an interview on The Joe Rogan Experience podcast on Wednesday (Sep 2), Miley confessed that she had given up her strict vegan lifestyle in 2019 after developing intense hip pain that she believes was because of her diet.
"I was vegan for a very long time and I've had to introduce fish and omegas into my life because my brain wasn't functioning properly," she said.
READ MORE: Miley Cyrus confirms she's ready to bring back Hannah Montana
Miley's first non-vegan meal was actually grilled fish cooked by her ex-husband Liam Hemsworth, who she separated from in August 2019. She added: My ex-husband cooked me some fish on the grill. I cried, like, for a long time. I cried for the fish… it really hurts me to eat fish."
The Hannah Montana actress has now added more meat and gluten into her diet, and her health has drastically improved. She said: "Now I'm so much sharper than I was and I think that I was, at one point, pretty malnourished."
Well, Miley might be feeling better, but she's now receiving criticism from the vegan community for abandoning her vegan diet and "spreading misinformation".
So today Miley Cyrus went on the world's biggest podcast to say that she needed to start eating fish to get "omegas".

Vegan or not, you should be mad about scientific misinformation being spread to millions.

Here's an actually *scientifically correct* thread about omegas.

— mai 𓆈 (@milkmyoats) September 2, 2020
So Miley Cyrus isn't vegan anymore, can you guess which animal she started paying for to be stabbed? Yup, fish, what a surprise! 😂😂😂

— Lifting Vegan Logic (@vegan_logic) September 2, 2020
what annoys me abt Miley Cyrus not being vegan anymore is her using "I need omega 3" as a cop out because she knows most people aren't informed or educated on the fact you can get omega 3 from supplements, chia seeds, etc. like If you wanna eat fish bby just say that?? fake

— 𝖙𝖆𝖒𝖆𝖌𝖔𝖙𝖈𝖍𝖎 𝖒𝖔𝖒 (@waifuslimee) September 3, 2020
Anyways, Miley Cyrus has money, she could literally pay someone to help her figure out how to obtain omegas on a vegan diet.

If us regular people can figure it out, so can she 💀

— Tofu HobbitⓋ🇳🇴 BLM (@soymilkbitch) September 3, 2020
Fuck Miley Cyrus for not being vegan anymore. Fuck her for spreading miss information about how vegan Omega 3 works. Ugh, she has such a huge platform, what she's doing in incredibly detrimental to the cause.

— valen Ⓥ (@valenfigurka) September 2, 2020
soooo what is miley cyrus just gonna keep rocking her vegan tattoo while eating dead animals???

— kellⓋ 💖 🌤 (@veggiekellz) September 3, 2020
miley cyrus appropriated culture and pretended to be vegan. what a mf clown 🤠

— i deserve to go to hogwarts Ⓥ (@heatherlwt) September 2, 2020
Whilst Miley hasn't responded to all the criticism, she anticipated the potential "terrifying" backlash she was about to receive during the podcast. She said: "They're going to come for me but that's okay. I'm used to people coming for me."
READ MORE: QUIZ: Are you more Miley Stewart or Hannah Montana?
What do you think? Tweet us @popbuzz and let us know!