14 Times Frank Iero Was The Most Savage Man On Twitter
17 May 2017, 11:48
The former My Chemical Romance guitarist turned solo star has the most hilarious clapbacks you will ever see online.
Frank Iero - singer, songwriter, former MCR member and, now, the ultimate king of savage Twitter clapbacks.
Yes, while Frank is undoubtedly one of the nicest men in music, if you step to him on social media, he will tear you down in the most hilarious way possible. He is, quite simply, a comeback machine.
theroleplaycritic.tumblr.com
But don't just take our word for it - we've rounded up a few of our fave Frank tweets for you to enjoy. Strap in, we're about to get savage.
1) Ask stupid questions, you'll get stupid answers!
2) Tbf, that is a bit concerning...
3) If Frank says that's how it is spelt, then that is the correct spelling.
4) This absolute truth bomb:
5) Really? How did you not get the joke?
6) Dammit Adrian!
7) If the man suggests a band name on Twitter, it becomes his legal property. Fact.
8) Officially not a monster.
9) If you listen closely, you can hear the sound of George Lucas softly crying himself to sleep...
10) Rad.
11) Bad time to mess up your spelling.
12) That's a cow.
13) Again, check the spelling guys!
14) And, finally, this masterpiece:
Keep doing you Frank - we'll see you online!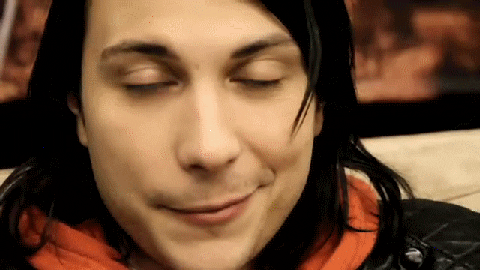 Giphy
____ ____ ____ ____ ____
Listen to the #PopBuzzPodcast with Hey Violet right here or subscribe for free on iTunes to get new episodes sent straight to your phone every Friday.