Gerard Way's 'Danger Days' Artwork Will Blow Your Mind Into A New Dimension Of Awesome
5 November 2015, 13:09 | Updated: 8 May 2017, 17:09
Na Na Na!
You know Gerard Way as Prince of My Chemical Romance, but what only more dedicated fans may know is that he is also an INSANELY good artist.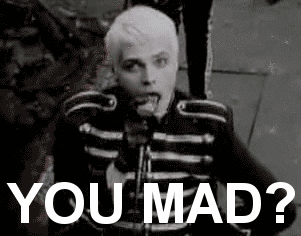 Let's take a stroll down memory lane, to 2010 when My Chemical Romance dropped 'Danger Days: The True Lives of the Fabulous Killjoys', their fourth (and final *sob* ) album.
MCR have always been known for their super stylised looks, and Danger Days took it to a completely new place.
While the album and its imagery was a departure from the previous looks and albums, nobody could deny it was a certified strong look. And as this turns out, it was all thanks to Gerard Way, as seen in these AMAZING concept art pieces he drew for the album.
See how Gerard's art compares to the finished product.
1. The whip.
2. This mailbox was in a MCR video AND on a single cover. NBD.
3. Mikey Way aka 'Kobra Kid' had the best helmet of all time.
4. Frank Iero aka Fun Ghoul's look came with a 'cheap Halloween Frankenstein mask'.
5. 'Dr Death-Defying' who opens the Na Na Na video, and his lair.
5. Ray Toro aka Jet Star reps the album's spidery logo on his jacket and a 'black parade' chord for throwback thursday value.
6. Creepy exec 'Korse' and his minions 'The Draculoids'.
7. An ofc we couldn't forget Gerard aka Party Poison.
And since we know now you'll now have that warm, fuzzy nostalgia feeling and the urge to jam out to 'Na Na Na', here's the video to see everything in action.
Save
Save