Gerard Way calls on white people to be "non-performative" allies to black people
5 June 2020, 15:57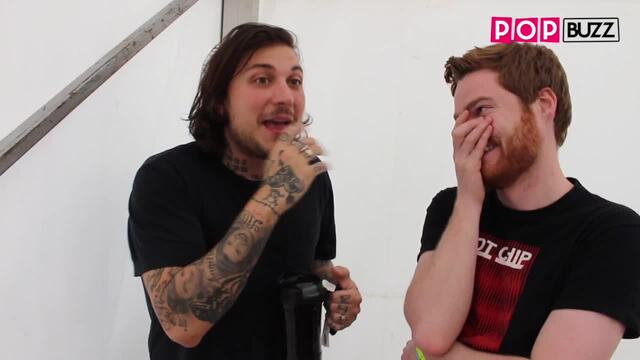 Frank Iero Reveals The Name Of MCR's Group Chat & We Test Him On His Twitter Knowledge
Gerard Way showed his support for Black Lives Matter and encouraged his fans to donate to the NAACP on his Instagram.
My Chemical Romance singer and Umbrella Academy creator Gerard Way has spoken up about racism and white privilege.
Following the murder of George Floyd by a white Minneapolis police officer last week (May 25), many celebrities have begun speaking out against police brutality, donating to those affected by it and attending Black Lives Matter protests. Stars including Kanye West, Tessa Thompson, Halsey, Ariana Grande, Billie Eilish and many more have all got involved.
READ MORE: Kanye West sets up college fund for George Floyd's six-year-old daughter Gianna
Now, Gerard Way has joined them. In a lengthy, Instagram post he called on his fans to help in concrete meaningful ways.
Taking to Instagram (Jun 4), Gerard wrote: "I could start by saying I have needed time to think, to explain away the days of silence. I could say there are no words, or that I don't know how to begin. But not knowing where to begin is a bad way to begin, and days of thinking are a luxury. Having the time, and more importantly, the safety, to consider one's words is a privilege for me, along with many other privileges I possess due to the color of my skin."
He continued: "And these are privileges not everyone benefits from. There is not much time to think, surely not days, when the knee is on your neck. When the bullets penetrate, or the tear gas finds its mark. When generations of enabled systematic oppression, and its guardians, work against you. When opportunities are not afforded to you because of who you were born to be."
Gerard then promised that he will do better and asked other white people not to be performative allies. He wrote: "
I cannot begin to understand your experience, but what I can do is stand by you. Continue the internal discussions we are having about ways to affect change in non-performative ways. Meaningful ways beyond this moment, beyond this gesture."
Read Gerard Way's message in full here.
Gerard ended the post writing: "Grateful for your kindness, your honesty, and the knowledge you have shared that I will further educate myself with. I am, and will remain, inspired by your rage." He also encouraged his fans to educate themselves and donate to the NAACP Legal Defense and Educational Fund.
To find out more information and make a donation, visit the NAACP Legal Defense and Educational Fund: HERE.