Here's What Gerard Way Was Going To Call His Next Album...
24 August 2016, 10:24 | Updated: 8 May 2017, 17:09
He may be focused on other areas, but the singer did have plans for a follow up to "Hesitant Alien".
My Chemical Romance may not be returning any time soon but former frontman Gerard Way is still very much hard at work.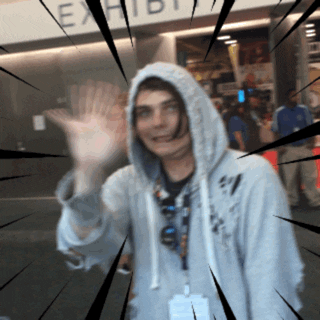 Comic Con, Giphy
Having wrapped up the promo campaign for his solo debut Hesistant Alien, Gerard is now focused on his work in the world of comic books, stopping by San Diego's world famous Comic Con to promote his new line of books.
And, as Alt Press reports, while there he revealed that a second solo album had, briefly, been in the works. It even had a title ready - Young Animal.
It was going to be the name of my second solo album," he says. "When I realised I wasn't going to make a second solo album for the time being, I was like, 'I'll just use the album title as the name for my next project—whatever that ends up being.'

Gerard Way
Young Animal is now the title of Way's imprint for DC, currently producing four new comics over the coming months.
Music wise Gerard has no immediate plans but there will be some previously unreleased material on the anniversary reissue of The Black Parade coming in September.