Gerard Way Is Getting His Own Netflix Series & We're Not Okay
11 July 2017, 22:10 | Updated: 10 December 2018, 16:04
Netflix have officially confirmed 'The Umbrella Academy' is coming in 2018.
UPDATE 11/07/17
And now it's official!
Netflix have confirmed that The Umbrella Academy will launch next year with a 10 episode straight to series order. Jeremy Slater has written the pilot, Steve Blackman (Fargo on FX) will act as showrunner and Gerard Way is co-exec producer.
Plus, this lovely looking launch poster has also just been released:
Netflix
Amazing.
Gerard even gave a nice quote for the press release too:
"I am thrilled that The Umbrella Academy has found a home at Netflix. I couldn't think of a better place for the vision Gabriel Ba and myself had when creating the comic, and cannot wait for people to experience that world as a live action show"
We'll bring you further details as we get them because, like you, we are pretty damn hyped for this one!
ORIGINAL POST 07/07/17
Gerard Way is heading to Netflix as the streaming service is set to adapt the singer's comicbook anthology The Umbrella Academy into a full series.
The Splash Report has received word that an announcement is imminent, potentially at this month's San Diego Comic Con event, with Gerard "definitely involved" in the project and with Jeremy Slater, writer of the recent The Exorcist TV series, taking on scripting duties.
Dark Horse Comics
The books, written by Way with illustrations by Gabriel Bà, follow the story of a "dysfunctional family of superheroes" in an alternative version of 1977 where JFK was never shot. The story has been in development for the screen since 2015.
Jeremy Slater previously spoke to Collider back then about writing the pilot:
"I definitely wrote the pilot for The Umbrella Academy. I think it's really exciting. I think it's really surprising and funny. I took the job because I'm such an immense fan of what Gerard [Way] and Gabriel [Ba] did with that book. It's one of those things where I would rather be the guy to screw it up than sit back and let someone else come in and do the bad adaptation. So, I was really adamant about taking the job, but the only way I was going to do it was if I could make it weird and make it true to the spirit of the book. There's a lot of weird shit in The Umbrella Academy, and it would be very easy to sand down some of those weird edges and make it more familiar to American audiences. I'm fighting very hard to not let that happen. We're shopping around the pilot, at the moment. We're trying to find the right home for it and trying to find someone as excited as we are."
Netflix has currently declined to comment on the series but expect a full announcement when SDCC rolls around on July 20th-23rd. We'll bring you all the updates as soon as we get them.
Gerard's specific role in the project is also currently unknown but expect him to at least have a producer credit, possibly write an episode or two and, if we're lucky, maybe even provide some music for the show too - his recent Record Store Day releases were tied into his Young Animal comic imprint so ya never know?
Either way, looks like we all have a new fave Netflix show to binge very soon!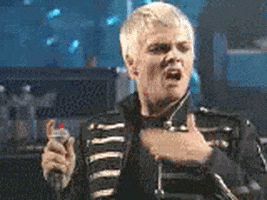 Tumblr, Giphy
____ ____ ____ ____ ____
Listen to the #PopBuzzPodcast with Tom Holland and Zendaya right here or subscribe for free on iTunes to get new episodes sent straight to your phone every Friday.