MCR Revealed They Have A Group Chat & It's Already A Meme
'Ham Damage' is rising...
The former members of My Chemical Romance have a group text chat and ever since the news broke, their fans have been seriously freaking out and begging for more details.
The group chat first came to light during our exclusive PopBuzz interview with the band's guitarist Frank Iero, backstage in London ahead of his supporting slot on the Taking Back Sunday tour.
Pretty quickly, word spread around the fandom that the boys are still in touch, talking about things as silly as a ham delivery service called "Ham Damage". Yes, really.
And then, of course, other conversation ideas began flooding in!
MCR group chat.
ray - sends meme
gerard - good mor- BaHaH
mikey -
frank - *adds bob*
gerard - eat shit fra-..yo Bob um
*Mikey left the GC*

— aaleeyah(yazoo girl) (@aaliyah_g3) February 17, 2017
the mcr groupchat is probably just filled with barbecue recipes and song recommendations. with the occasional weird shit from gerard

— lianne (@thecellabraton) February 18, 2017
imagine the group chat the mcr boys have pic.twitter.com/FAjpndQbSE

— jay (@littleblue_jay) February 17, 2017
IMAGINE FRANK SENDING CUTE PICS OF HIS CHILDS TO THE MCR GROUP CHAT

— rey toro stan (@gcthcIaudia) February 19, 2017
does frank send memes to the mcr group chat

— rey toro stan (@gcthcIaudia) February 17, 2017
All truly excellent topics right there and at least a couple are probably scarily accurate.
Then, of course, the memes began...
Me vs me after I find out MCR has a group chat pic.twitter.com/h3KLrn5Dfy

— zerø (@frankieroisrad) February 19, 2017
where were you on february 17, 2017 when frank iero revealed that mcr has a group chat

— olivia (@slightly_korean) February 18, 2017
Me: it's 2017 mcr is dead guys

Also me climbing out of my emo hell: they have a fucking group chat pic.twitter.com/yxo7fORBYy

— sammy.png 18 (@CuteAndDrawing) February 20, 2017
quando o frank confirma que mcr tem um groupchat pic.twitter.com/7lc853O4EG

— mar (@sherffway) February 18, 2017
Basically, everyone was very excited.
Someone even developed the perfect advertising for their new ham delivery company:
Incredible scenes. Let's start a crowdfunding page for this now. "Ham Damage" is rising!
Of course, we still have a few questions for Frank and the boys - what's the name of the chat? How often are you on there? Is everyone involved or do you have any sneaky sidechats to talk smack about each other? Do you play any games together like on Facebook Messenger? And if so, who is winning?
WE NEED ANSWERS!!!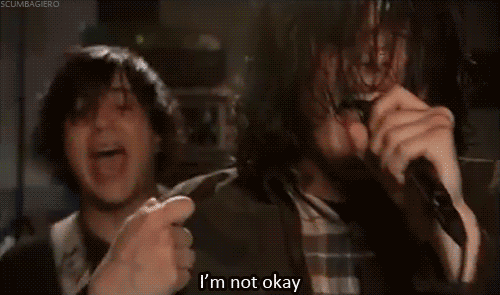 GIPHY: like-a-zombie96.tumblr.com
Frank continues on tour with Taking Back Sunday before heading back to the US for some headline dates with his new band Frank Iero and The Patience. His new album Parachutes is available now.
Watch our full interview with Frank below: