We Heard Mikey Way's Post-MCR Album And It's Not What You Expect
9 March 2016, 15:02 | Updated: 8 May 2017, 17:09
Debut album came out today!
After several years away from the spotlight and some much-publicised personal demons, MCR legend Mikey Way returned to the music world today, dropping his debut album from new project, Electric Century with David Debiak, as a free CD with this week's Kerrang! magazine.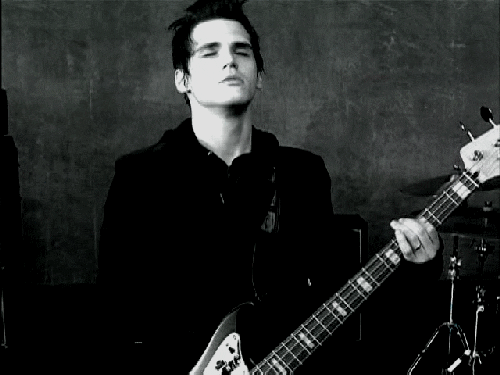 Tumblr
And so, being the faithful fans that we are, we left the comfort of the PopBuzz office and braved the rain and wind of London to search out a copy in the newsagents of the city.
We have our copy.
PopBuzz
Now let's listen to For The Night To Control by Electric Century.
1) You Got It All Wrong
A gust of wind leads into an 80s style synth straight out of the Drive soundtrack. It is an immediate shift from Mikey's previous musical incarnation and the perfect, poppy statement to the world that this is the new sound. Depeche Mode is an obvious influence, the final, repeating hook of the title lyric building to a fuzzy outro reminiscent of a lighter take on PVRIS style synth rock.
2) Right There
Previously heard on an EP last year, this is a back to basics pop song, again making use of 80s synths, Kraftwerk being the main reference point as Mikey sings of "giving everything we have when the stars collide", before a final chorus key change kicks things into the stratosphere. Imagine The 1975's latter day releases but with heavier drums instead of saxophone solos.
3) Hey Lacey
Delving into slightly rockier territory, this is the first guitar-led track on the record, it's riff a lot simpler than the super-charged efforts of MCR but driving the melody at a great pace none the less.
You are the sun that burns in space on the horizon/You are the part of me that always heeds the call.

Hey Lacey
4) I Lied
Another previously heard release, David his since claimed he wrote it about addiction but not specifically Mikey's struggles with alcohol. Having said that, it must have been difficult for Mikey to write music to lyrics about addiction while simultaneously battling his own demons. The song itself is an arena anthem in waiting with a big punch the sky chorus.
5) For You
We take a stylistic left-turn at the album's mid-way point as Prince-style minimalist synths play out over the verse until a big CHVRCHES keyboard riff carries through the chorus. The lyrical messages of hope and taking care of another in a time of need again draw obvious parallels with Mikey's personal life.
Light will fade and I will stay here with you.

For You
6) Let You Get Away
Another solid single, it's old-fashioned songwriting style calls to mind the best of American road trip rock, a singalong chorus clearly nodding to the likes of Springsteen, albeit with a slight synth twist. Lyrically reflecting on past mistakes and moving forward, it is a stadium number built for mass karaoke at 3am.
7) Until The Light Goes Out On Me
Previously written for David's former band New London Fire, this new version gives the track a shaky synth line under ominous grand piano thrusts, jingle bells and an honest-to-god gospel choir, creating an over the top, semi-religious power ballad that, in it's epic scale, would not have seemed out of place on The Black Parade.
8) Someone Like You
Another former New London Fire number, this is more industrial in nature, again bringing Depeche Mode to mind, until a U2-style chiming guitar riff brings the chorus in. Paranoid lyrics are heightened by jittering electronic effects fading in and out at sudden intervals.
9) Lately
Another pop song, Mikey's bassline providing a solid backbone to the sparse melody and no frills instrumentation of the opening verse, before a string section kicks in and a chorus full of "sha-la-la-la-laaas" arrives to get you on the dancefloor. Like a darker take on early Arcade Fire and a definite overall highlight of the record
10) Live When We Die
We close on a piano-led ballad and the only song that Mikey wrote the lyrics for. For that reason, this is obviously the most honest and heartbreaking moment, clearly nodding towards the struggles he has experience over the last few years but looking forward to the future in a positive light.
Don't leave the heart within you/Keep the things that matter to you wrapped up in the comfort of your love/Don't come undone.

Live When We Die
Strings return as a wall of sound brings the whole record to an appropriately celebratory and life-affirming close.
So there you have it.
You can pick up the album with this week's copy of Kerrang! Let us know what you think guys.
Welcome back Mikey.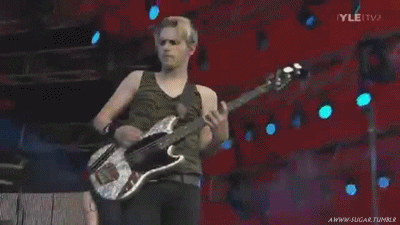 Tumblr