LISTEN: My Chemical Romance Drop Lost Song & Reveal All About "The Black Parade" Reissue
29 July 2016, 14:02 | Updated: 8 May 2017, 17:09
All the details about that secretive reissue have been unveiled and you can preorder it now.
My Chemical Romance have unveiled the full details of their anniversary release of The Black Parade album.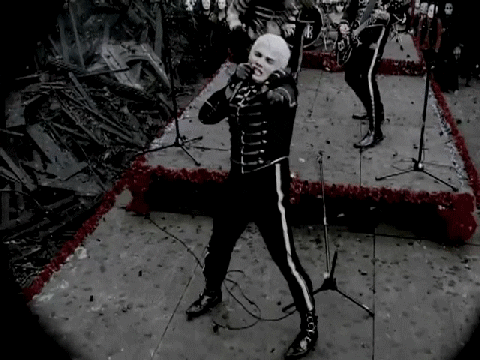 Wiffle Gif
The reissue, entitled The Black Parade/Living With Ghosts, will drop on September 23rd with 11 bonus tracks included on the 2 CD, 3 LP set. The cover features the now infamous flag taken from the band's MCRX non-reunion video that briefly had us excited last week.
In fact, pre-order the bundle on the band's website and you can get a free flag to wipe away your disappointed tears with.
The full tracklisting is as follows:
1. The Five of Us Are Dying (rough mix)
2. Kill All Your Friends (live demo)
3. Party At The End Of The World (live demo)
4. Mama (live demo)
5. My Way Home Is Through You (live demo)
6. Not That Kind Of Girl (live demo)
7. House of Wolves, Version 1 (live demo)
8. House of Wolves, Version 2 (live demo)
9. Emily (rough mix)
10. Disenchanted (live demo)
11. All The Angels (live demo)
Plus, the band have already dropped "The Five Of Us Are Dying", the original version of what would become "Welcome To The Black Parade".
Listen to the demo below:
So, what do you guys think? Was this package worth all the hype? Do you like the demo? Will you be buying this double LP?
Let us know below.