This My Chemical Romance & Mariah Carey Mash Up Just Made Your Emo Xmas
30 November 2016, 10:30 | Updated: 8 May 2017, 17:09
All I want for christmas is emo...
The Holiday season has officially begun and one clever YouTube user has found a way to take our love of all things emo and add a bit of festive spirit.
It's the mash up you never knew you needed - Mariah Carey and My Chemical Romance.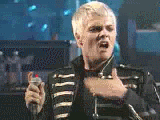 Giphy
Yep, it's happening!
There is no better way to welcome the start of December than with this festive pop punk ditty from "oneboredjeu", mixing "All I Want For Christmas" with "Welcome To The Black Parade".
Does it work? Um...sort of. And hey, after that horrifying Steve Aoki remix, it's just the silly palette cleanser we needed!
Check out what happens when Mariah meets My Chem in the video below:
___ ___ ___ ___ ___
Catch Pierce The Veil on the #PopBuzzPodcast right now. Subscribe for free on iTunes to get new episodes sent straight to your phone every Wednesday.