Niall Horan Just Revealed The 'Worst Night Of His Life' And It's So Unexpected
19 September 2017, 14:43 | Updated: 19 September 2017, 17:10
He's literally NEVER spoken about it - until now...
When someone talks about the worst night of their life, you'd expect them to say something quite sad or dark or even something like "I was drunk, I blacked out and ended up in a different country with no money and no luggage."
But for Niall Horan, the worst night of his life was actually... at a One Direction gig.
via giphy.com
Yep. It turns out that the first time One Direction ever performed on stage together outside of a television studio was the 'worst night' of Niall's life, and even went as far to call it a "complete disaster."
The band played their very first post X-Factor gig at the Watford Colosseum in London just after the released their first song, What Makes You Beautiful (still bangs) but even though they managed to score some pretty great reviews from critics, the thought of THAT show in particular sends Niall into a sweaty meltdown.
Speaking to the BBC, Niall said: "I never want to talk about that gig again. Worst night of my life. The worst One Direction show ever. We've refused to talk about it ever since… It was a disaster. We were just a joke.
"Anything we rehearsed just went out the window. It was our first ever gig and we just didn't know what the f--- was going on."
It sounds like Niall holds a lot of ~fond~ memories about being on tour with the boys. Back in April, he stopped by the PopBuzz studio to talk about the best song ever written his single 'Slow Hands' and revealed the one thing he doesn't miss about being in the band.
His answer? "Louis' Junk Bunk." On the bus that Niall shared with Louis and the boys, there was a spare bunk that Louis commandeered for himself and his many many MANY possessions - or as Niall put it, "Louis' crap," - and Niall, being someone who prefers to keep things tidy, thought it was an absolute bloody nightmare.
There you have it, kids. Now don't make Niall speak of this nightmare ever again.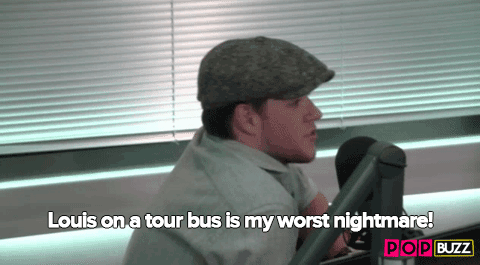 PopBuzz