SOS! Nick Jonas Just Revealed The REAL Reason Behind The Jonas Brothers' Split
16 June 2016, 10:50 | Updated: 8 May 2017, 17:09
Basically, we should just blame Nick for everything.
If you, like us, are still salty about the events of October 2013 when the teenage heart-throbs the Jonas Brothers broke up TWO DAYS before they were about to embark on tour together, then saddle up because we've got some pretty earth-shattering receipts.
Until now, we'd always assumed the brothers had disbanded because of boring old 'creative differences' but thanks to Nick's recent press tour blabber mouthing, it's been revealed that HE was actually the one that broke them up.
Not Joe, Not Kevin… NICHOLAS JERRY JONAS.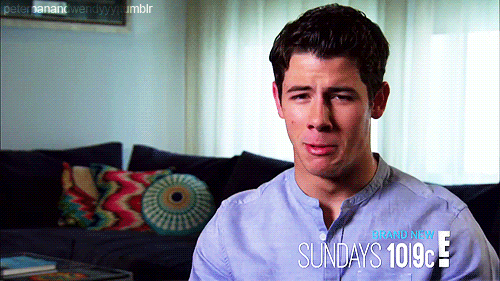 E! / via giphy.com
You were so young and innocent, Nick… why did you do this to us? How dare you! We were all rooting for you!
Speaking with Andy Cohen on Bravo's Watch What Happens Live, Nick spilled the beans on the entire situation and admitted that, although the split was probably a long time coming, he was the one that lead the final conversation and set the ball of break-up doom rolling into their successful career.
When asked, 'who was the one that initiated it?' by Andy, Nick replied:
I was. It was a very tough conversation, and it left the family kind of shaken up for a little while. I mean we were about to start a tour. We were two days from starting a tour.

Nick Jonas, Watch What Happens Live

It's not the first time Nick spilled the tea on the split. Back in 2013, shortly after the break up he told Good Morning America, "In a nutshell, I said, 'Look, I feel like we've had some complications within the group for a long time without addressing them. I think this train will fall off the tracks without really getting real about some of the concerns and some of the limitations that we may feel as individuals in the group.'"
Now 3 years later, we now officially have confirmation that it was, indeed, all Nick's fault.
He also rounded out Andy's question by stating that all three of the brothers are "good now."
via giphy.com
Alright, well… you three might be ok but we're still on the edge over here. Don't ever do that again, Nick. Please. And also, how dare you.