21 Harry Styles Album Lyrics That Make The Perfect Instagram Caption
12 May 2017, 13:16 | Updated: 19 September 2017, 11:04
Just stop your crying, we're here to save your Instagram.
It's finally here. Harry Styles unleashed his debut self-titled album upon the world today and our crops have never looked healthier. People have been dissecting every lyric for clues about previous romantic relationships and old friendships but more importantly, seeing which ones they can snag for profile bios and Instagram captions.
So to help you out, we've selected a handful of Harry's finest poetic prose for you to use at your leisure, whatever your mood. From this day on, you are no longer allowed to post a picture on Instagram without using one of Harry's lyrics as a caption. It is law.
For when you're in your feelings...
We've all been there. Feeling sad and pessimistic about the world. Logging on to Instagram to post a few melancholic selfies. How about going one better next time with an angsty quote from track 3?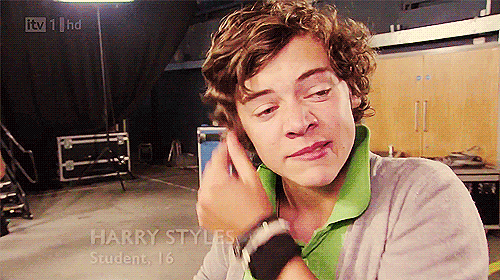 ITV
"We don't know where we're going but we know where we belong"
"Oh, tell me something I don't already know"
"Comfortable silence is so overrated."
"Welcome to the final show, hope you're wearing your best clothes."
"Remember, everything will be alright, we can meet again somewhere."
"We're just two ghosts swimming in a glass half empty."
For when you've just broken up with bae...
It's inevitable, isn't it? The string of Instagram posts that ALWAYS get uploaded after someone goes through a break up. Whether you're still in that "I HATE HIM" phase or whether you're just pining after your crush, Harry has got you sorted.
via giphy.com
"Tastes so sweet, looks so real, sounds like something that I used to feel."
"Same lips red, same eyes blue, same white shirt, couple more tattoos, but it's not you and it's not me."
"It's hard when we argue but we're both stubborn I know."
"I'm selfish, I know, I don't ever want to see you with him."
"Apologies are never gonna fix this."
"Even the phone misses your call, by the way."
"I always think about you and how we don't speak enough"
For when you and the squad are about to TURN UP...
Harry's album might be jam packed full of melancholic bops but hidden in between those soaring guitar riffs and powerful vocals are some cheeky little numbers. And the lyrics are perfect for a night out with the #sqwod.
via giphy.com
"Just stop your crying, have the time of your life."
"She's got a book for every situation, gets into parties without invitations."
"There's not a drink that I think could sink her."
"La la lalalala la la la laaalalalala."
"LA LALALALA LA LAAA LALALALA."
For when you're feelin' yourself...
Self explanatory. *flips hair*
via giphy.com
"I'm still the only one who's been in love with me."
"Hard liquor mixed with a bit of intellect."
"In a black dress, she's such an actress."
BOOM. Instagram game on lock. Thanks H.
via giphy.com
____ ____ ____ ____ ____
Listen to the #PopBuzzPodcast with Niall Horan right here or subscribe for free on iTunes to get new episodes sent straight to your phone every Friday.