Ranked: Harry Styles 'Another Man' Photos By How Much They Made Us Sweat
29 September 2016, 14:12 | Updated: 19 September 2017, 11:09
Welcome to the Sweat Factor with your sweaty host, PopBuzz.
If you missed our Facebook Live yesterday, then I have some pretty big news for you...
Harry. Styles. Is. Back.
giphy
Praise the lord! There aren't any precise details about his solo album plans just yet but we know it's going to coming very soon.
What we do know for certain is that his first photoshoot since going solo in Another Man magazine is a squelching sweat-fest of beautiful photos that will make you sodden all the way through. Moist doesn't even cover it, hunni.
In the interest of serious-journalism, we've broken down the top ten photos (out of 43!) that will make you sweat like Louis Tomlinson reading through a Harry Styles Wattpad account. Bring a towel bbz, you're about to get WET.
10. Harry Styles as a filthy baker.
The innuendo was not lost on us here. That thick layer of icing with a perky cherry on top? Harry, you filth pot! To make matter worse, they've taken this photo in an actual bakery (perhaps the very bakery he used to work before his 1D fame?). Like, does Harry know how much I love hot crossed buns and sticky fingers? It's making my sweat stink of yeast. Help.
SWEAT FACTOR: 7/10 bottles of basic antiperspirant
9. Harry Styles as trash.
We have a saying at PopBuzz: 'I'm trash, you're trash, everybody trash'. We're happy to see that the same applies to junior baker and global filth pot Harry Styles. However, trash isn't just a photo on a glamorous photoshoot. No, it's a way of life. It means harvesting your memes, writing bad fanfic - activities we truly hope Hazza indulges in when he's not shooting films about WWII or yachting in St. Barts.
SWEAT FACTOR: 7/10 bottles of Lynx Africa (from the reduced aisle)
8. Harry Styles as a arachnophiliac's nightmare.
There's a lot going on in this photo that might make you sweat - especially if you have a fear of spiders - but what is particularly sweaty about this shot is the possibility that Harry might be ushering in a new era of chokers for men, and thus making it the sartorial choice for all urbane men this fall and winter. *runs to Claires Acessories and buys every choker in the shop*
SWEAT FACTOR: 7/10 bottles of Impulse Orange Blossom
7. Harry Styles as Paul McCartney but less saggy.
If you look at this image and don't start profusely sweating I can only assume you must be some sort of human sponge. I'm having a hot flush just thinking about it. Someone hose me down, I think I'm going to pass out.
SWEAT FACTOR: 8/10 bottles of organic, gluten-free, free-trade deodorant that smells like cat piss
6. Harry Styles as the girl from The Ring.
Horrifyingly sweaty. My armpits are incredibly dank right now. You'd need a spacesuit to survive in it's hostile atmosphere.
SWEAT FACTOR: 8.5/10 bars of prison soap
5. Harry Styles in a reclaimed pair of vintage drapes.
Curtains have never looked sexier, tbh. Would also be ideal for sweat rags which, quite frankly, I'm in dire need of.
SWEAT FACTOR: 8.5/10 bottles of your nan's most pungent, floral perfume from 1945.
4. Harry Styles as a page 3 tabloid model.
'Harry Styles, 22, from Worcestershire, is appalled by what's happening in American domestic politics right now. "I just don't like that man Trump" says Harry, who's wearing not-very-much on this sexy shoot. "He's a bigot and he will ruin the reputation of America abroad". We couldn't agree more, Harry.'
SWEAT FACTOR: 9.0/10 bottles of Chanel No. 5
3. Harry Styles as a furry love machine.
We're not gonna lie, we're actually writing this article from an emergency life raft in the office. That's right, I've expunged so much liquid from my prune-like body that I've flooded the entire office floor. Our meme librarian has put arm bands on just to stay afloat. Someone call the lifeboats asap.
SWEAT FACTOR: 9.5/10 tons of sand bags - major flood alert.
2. Harry Styles rollicking in the reeds.
Everyone loves a good rollicking, amirite? Asleep in the reeds, Hazza is dreaming about being the next Justin Timberlake, leaving behind his inferior bandmates and creating pop anthems for the next generation. Rumours have been circulating about tracks names, which include; 'Why'd Ya Gon Have A Baby Like That', 'My Dark Prince' and 'Happy As Larry'.
SWEAT FACTOR: 9.9/10 tons of salt
And the winner of The Sweat Factor 2016 is... Harry Styles in the bushes!
This is the cutest photo of all time and thereby the sweatiest by a good few swimming pools of pure sweat.
Until next time, fellow sweaters...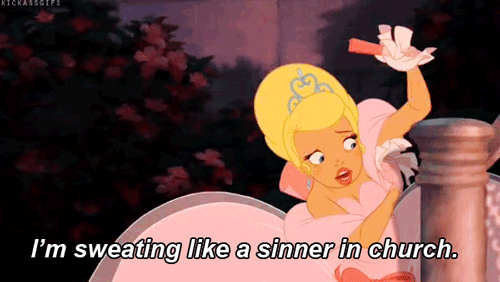 giphy