This Is What Solo Harry Styles Needs To Learn From Matty Healy
27 March 2017, 11:29 | Updated: 19 September 2017, 11:08
The 1975 frontman has a great deal of lessons he can share with the 1D singer...
So Harry Styles, the flowery-shirted "serious actor" and former One Direction-chanteuse, is currently working on a solo album and, rumour has it, he's been writing with pop heavyweights like everyone's favourite wedding DJ Bruno Mars and Scandinavian hit machine Max Martin.
Which is all very good and everything but the fact that is there is one person we know Harry should definitely be writing tunes with; one man who can propel Mr Styles out of boyband purgetory and into solo stardom.
That man's name is Matty Healy.
Tumblr
In fact The 1975's incredible second album, "I Like It When You Sleep For You Are So Beautiful Yet So Unaware Of It", is basically the solo album that Harry should have made.
We already know that "The Sound" was (sort of) offered to 1D for their final album and the pair have definitely hung out in a non-studio environment.
Plus they even had a little snog in the "Love Me" video.
Giphy
Never forget.
So we're agreed - they need to work together. Now, here is what we want to see Harry learn under the tutorship of The 1975 frontman.
1) A Big 80s-Inspired Comeback Single
Tumblr
Let's be real here guys - Niall's "My Town" was perfectly nice background music and "Pillowtalk" is great for when you're browsing the shelves in H&M but what we really want to hear is a big pop banger. Harry needs to drop a statement track, preferably full of knowing, winking references to his celeb-filled partying days at the Groucho club. Just write us another "Love Me" please Matty.
2) Arty AF Music Videos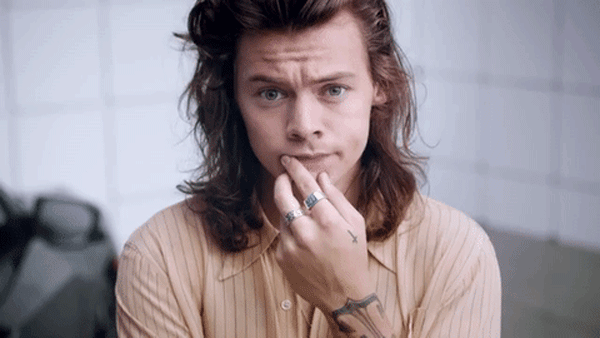 Tumblr
Harry and Matty both delicately walk that line between between artfully sophisticated and hilariously pretentious, making solo Harry music videos seem like a very entertaining concept. Obviously we need lots of bright neon lights and killer dance moves but we would also fully accept a promo clip that ends with Harry getting off with himself in the back seat of his car. Just think of the fanfic...
3) Plenty Of New Hair Styles
Tumblr
Much like Matty has changed his look with virtually every tour date, so we would like to see Harry go from his current "Dunkirk" styled short look to something more manic. We expect at least 3 new hairstyles per financial quarter. If you get stuck, just go back and look over his Another Man magazine shoot for inspo.
4) Lyrics About Famous Ex-Girlfriends
Tumblr
Of course, we aren't suggesting for a second that any of The 1975's recent work has been inspired by any of Matty's alleged celebrity flames. But, could you made to believe that "Change Of Heart", "The Sound", "Somebody Else" or "She's American" were about Halsey/Taylor Swift/Bette Midler? Yes, you could, because they are well-told stories that keep you guessing about the person he's talking about, leaving it open to the interpretation of the listener. Harry should repeat the trick with some Taylor-esque confessional bangers.
5) On-Stage Swagger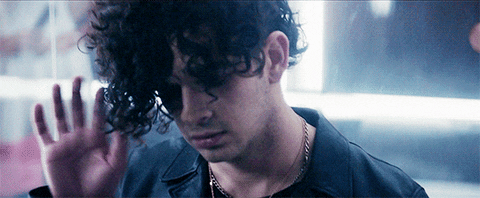 Giphy
From jumping on tables swilling red wine to dressing up as Kylo Ren flanked by Storm Troopers, there are very few frontmen out there working as hard as Matty to put on a good show. So let's get Mr Styles a decent vintage of Vino and push him towards the nearest stage and see what happens. He'll crush it we are certain.
Come through boys - together you can rule over 2017 like a pair of pop gods!
Giphy
____ ____ ____ ____ ____
WE'RE BACK! Listen to the #PopBuzzPodcast with Noah Cyrus right here or subscribe for free on iTunes to get new episodes sent straight to your phone every Friday.