Dear Harry Styles' Hair, The Time Has Come...
25 September 2015, 11:50 | Updated: 8 May 2017, 17:09
An open letter to those flowing locks.
Dear Harry Styles' hair,
We think that you're sat atop the best member of One Direction. Not only that, but we think your owner is going to make a pretty spectacular solo star, too. He has the potential to shake up the normal and, frankly, boring male popstars we have. We love that he runs around with a rainbow flag all the time, and seems to be a sensitive guy.
Basically, what we're saying is that we're very excited and happy Harry Styles is a pop star.
However, one thing needs to be said and we think now is the time to say it.
We think it's time for you to go...
For years we've watched as you, the precious, beautiful hair, have gone from trendy curls to almost glam rock length. We've seen you in a man bun, we've seen you in a pony tail and we've seen you look, if we're honest, a bit messy.
The thing is, right, that Harry is a very charismatic performer. In fact, we even follow a Vine account that's dedicated to him called "Harry dancing to stuff". It's truly magical...

It might look good when you're whipping around like Willow Smith, but we think you need a cut. In order for Harry to achieve world dominance you need to smarten up. Losing a few inches might not be the worst thing in the world, if you get what we mean.
Obviously we're not here to criticise. We know you try your best and you've truly helped create something magical. So don't be afraid of change. Change is good. Change will, as you'll realise with time, help us all.
We're not going to leave you in the lurch. No, in fact we've got some suggestions if you don't mind.
Firstly, this cannot happen again. It just can't.
STRAIGHT HAIR HARRY STYLES pic.twitter.com/1dKkwhe8cJ

— H (@abitofnxrry) August 31, 2015
But you could try something like this?
We also LOVED it when you did this.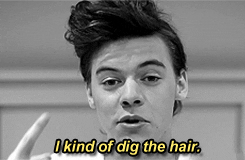 We mean, even going back to this would keep that signature look, but lose the split ends.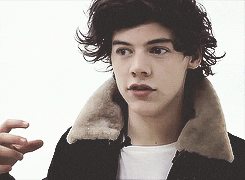 BAHHH - LOOK HOW PRECIOUS!
We might give this one a miss though.
Harry styles' hair pic.twitter.com/KNTKmwHXpw

— Reasons To Smile (@IReasonsToSmile) September 24, 2015
We're not sure what to say about this one...
Luckily, someone has compiled a collection of short vs long, so you can have a nice long look and pick one that you're into.

Maybe bide your time, wait for the current tour to end, and then chop it all off. Just go for it. We believe in you, hair. We truly do.
Oh, and if you could get Hazza to do this again that'd be great.