This Is The ONE Thing Niall Horan Doesn't Miss About One Direction...
5 May 2017, 16:52 | Updated: 19 September 2017, 17:08
Niall spilled ALL the tea in the PopBuzz Confession Booth.
Ever since One Direction went on hiatus, we've been unsettled. Don't know about you but our crops are taking slightly longer to grow, our skin hasn't been as clear and our debts are slowly but surely rising. Thankfully, the boys are all SLAYING in their solo careers right now, exploring their own sounds and the fans couldn't be happier.
We had the chance to ask Niall Horan all about what he misses and absolutely does NOT miss about being a band when he popped in to the studio and it turned out that his answer was not only amazing - but actually so damn relatable.
So what IS the one thing Niall absolutely ~DOES NOT MISS~ about touring his bandmates? We'll give you a hint. It involves Louis Tomlinson. Well, not Louis himself. Bloody hell, calm down. More specifically, it's Louis' Tour Bus "Junk Bunk".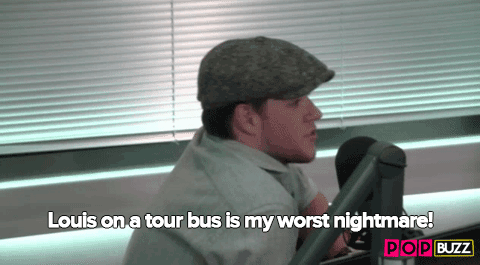 PopBuzz
On the bus that Niall shared with Louis and the boys, there was a spare bunk that Louis commandeered for himself and his many many MANY possessions - or as Niall put it, "Louis' crap." We're talking all his football gear, boots, loose Playstation game disks because he hadn't put them back in their boxes... and Niall, being someone who prefers to keep things tidy, thought it was an absolute bloody nightmare.
Back in 2015, Louis revealed on James Corden's Late Late Show that he likes to make the tour bus his home away from home so we can't really blame him for that. It's just moving away from home and your really messy older brother, innit? WE'VE ALL BEEN THERE, BABES!
And there you have it, the one thing Niall definitely doesn't miss about the band. To hear the rest of Niall's interview and hear what happened on his trip to the dreaded PopBuzz Confession Booth, subscribe to iTunes or hit the big play button on the Soundcloud link below.