The PopBuzz Podcast Ep 31: Niall Horan, One Direction, Fyre Fest
5 May 2017, 14:52 | Updated: 8 May 2017, 17:09
Niall Horan is BACK with a brand new single, reveals his first celebrity crush and spills on what he doesn't miss about One Direction.
When it comes to the lads of One Direction, we don't have favourites. We love all of them in equal measure. But after Niall Horan's HILARIOUS trip to dreaded PopBuzz confession booth, we think he miiiiiiiight have just edged ahead in the stakes. Seriously, when you hear what a 13-year-old Niall's first email address was you are actually going to scream out loud. He's got good craic that one.
Yes! That's right, Niall Horan - real life Irish Prince and best golfer on the Emerald Isle - joined us in the studio for this week's edition of the PopBuzz Podcast and it was life-changing. We discuss everything from his brand new single 'Slow Hands' and having a childhood crush on Selena Gomez, to the hotly anticipated reveal of his solo fandom name. And if you've ever wanted to know who the biggest crier in One Direction was, Nialler is right here to expose the culprit. #RealMenCry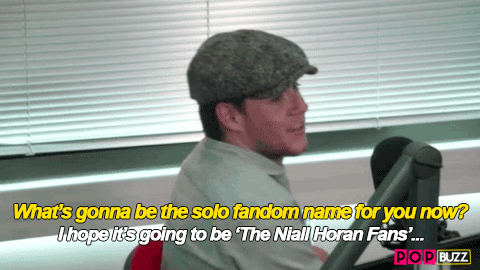 PopBuzz
We also coax Niall into spilling the deets behind all those juicy rumours concerning potential collaborations between him and The Chainsmokers and him and a certain Mr Shawn Mendes. What's the truth.gif, Niall? PLUS, he reveals the absolute WORST thing that he won't miss about touring with the boys.
All that and more on this week's edition of the PopBuzz podcast.
HOW TO SUBSCRIBE:
1) Search for 'PopBuzz' on iTunes, and subscribe to the podcast for brand new episodes every Friday.
2) You can also listen to us on Soundcloud. All you've gotta do is search 'PopBuzz' and we'll appear before your very eyes.
3) Or, you can type - you guessed it - 'PopBuzz' into YouTube and listen that way.
4) Don't forget to leave us a review. If you're nice, we'll give you sweets.
Elsewhere in the episode...
Fyre Festival was a thing that happened this week. Or rather DIDN'T HAPPEN this week, amiright? We try to get to the bottom of the catastrophe in the Bahamas, call out everything that went wrong and discuss why on EARTH YouTube's very own Marcus Butler ended up as part of the scandal.
via giphy.com
It was announced a few days ago that McDonald's have invented their own cutlery but after much deliberation, it has been decided (by us) that the 'Frork' - that's a fork made out of fries, btw - sounds like an absolute mess. If no one would invest on it in Dragon's Den or Shark Tank, is it even worth the time and effort?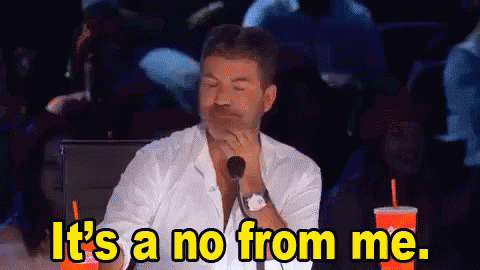 via giphy.com
We're back at it again, politicking all over the shop in the second instalment of "Snaps Or Craps". This week, British Prime Minister Theresa May stopped for a photo op with a cup of coffee and bag of good old fashioned English chips in her hand. She got a lot of sh*t for it in the press. No one knows why. So should we be pressed? Or should we just let Theresa live?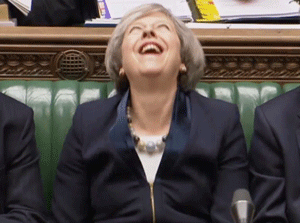 via giphy.com
Got a question you want us to answer or a topic you want to discuss with us on air? Why not drop us an email at info@pop-buzz.com. Or you find us on Facebook (
PopBuzz
) and Twitter (
@PopBuzz
).