Liam Payne confirms One Direction reunion is happening without Zayn
20 April 2020, 11:47 | Updated: 20 April 2020, 13:02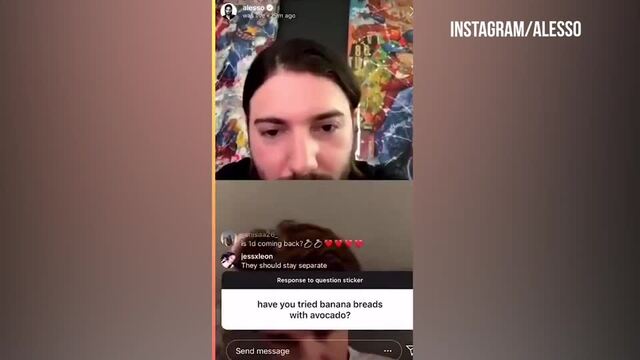 Liam Payne reveals that ZAYN currently isn't part of the One Direction reunion
Liam Payne let slip that a 2020 One Direction reunion is officially in the works on an Instagram Live with Alesso.
It's official. Liam Payne has revealed that the One Direction reunion is a go-go. However, Zayn currently isn't taking part in it.
Last week (April 14), news broke that One Direction were planning a secret reunion for their 10 year anniversary in July this year. Page Six reported that, while a tour is off the cards, the boys are looking to release a brand new single and a televised special. Liam Payne later told The Sun that "there's a number of different things that we are all working on" in regards to a reunion.
READ MORE: One Direction fans are furious with Billie Eilish for liking this shady meme
Now, Liam has officially confirmed that a reunion is in the works but he has also let slip that Zayn won't be joining in with it.
When are One Direction getting back together?
Speaking to Alesso on Instagram Live yesterday (Apr 20), Liam opened up about the reunion. He said: "We've been trying to arrange the first group FaceTime at the moment." Amazing. However, he then said: "You can come and fill in for Zayn. Join the band." WHAT?!!
He added: "I can't say too much. Louis told me off for revealing a bit about our plans the other day."
In other words, it looks like Harry Styles, Niall Horan, Louis Tomlinson and Liam are all on board but Zayn has said no for now. Eagle-eyed fans noticed last week that Harry, Niall, Louis and Liam all collectively re-followed Zayn on social media, leading people to believe that the boys want Zayn to be involved too. As it stands, Zayn hasn't followed them back.
Meanwhile, on Google, Zayn is now listed as a member of One Direction again. He also appears in the band's official photo on Apple Music. With that in mind, we imagine that Harry, Niall, Louis and Liam are keen for Zayn to join in their upcoming reunion and have asked him. We also imagine that Zayn doesn't plan to take part yet.
anyways reminder that no matter what happens with one direction and whatever they plan, zayn's decisions on whether to be involved or not are none of your concern and i best not see any slander on the tl when the time comes. his mental health should be his top priority. next.

— nadia loves jackie FIZA DAY (@advrestvle) April 13, 2020
if you are still here having a one direction breakdown, zayn breakdown, louis breakdown, harry breakdown, niall breakdown, Liam breakdown, and can't stop crying say i

— vas happening celine🍌𝓪𝓭𝓸𝓻𝓮𝓼 𝓭𝓲𝓭𝓲 (@1DGirI4ever1) April 13, 2020
Just a reminder that Zayn Malik does not owe us anything, much less a reunion. He faced SO many problems in One Direction, and wanting him to come back, regardless of his mental health is incredibly selfish. He deserves much better than that. He is free and happy, let him be.

— ayesha #1 🍒 stan (@kiwisugar18) April 14, 2020
a quick reminder zayn tried to get in touch with one direction boys when he left and some changed numbers not to talk to him. a quick reminder zayn was attacked and bullied for leaving the band and no one tried to make the situation any better, he doesn't owe anything to anyone.

— 𝖑𝖚𝖓𝖆 KIKI (@zjmtsnmi) April 17, 2020
Given how the band split and what's been said since, it's understandable that it might take Zayn a while to be persuaded to join in with a reunion, even if it's just for a one-off TV show or a single. Not to mention, he's stayed out of the spotlight as of late to take care of his mental health and may wish to continue doing so.
Whatever happens, we can't wait to find out what the boys have got planned.
What do you think? Is it a reunion without Zayn?