What Is Panic!'s "Death Of A Bachelor" Really About?
18 January 2016, 16:51 | Updated: 30 December 2019, 12:25
We have some theories.
After months of anticipation, countless early track releases (well, 6), a rather excellent night out in Brixton and, of course, an in-depth chat with PopBuzz, shirt-hating, statement-jacket loving, high heels-working, Josh Dun-hunning deceased bachelor Brendon Urie finally dropped his band's fifth album. And we liked it.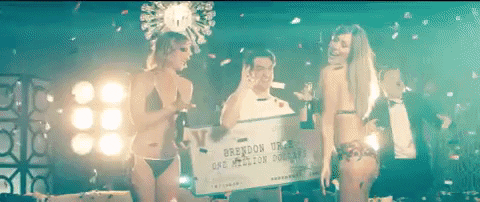 YouTube
And now, after several more listens, we have some theories about Panic!'s ambitious new long-player, namely that we think it may be a concept album. "What's the concept?" we hear you manically type/scream at your apple-based computer product. Well there are actually a few options. Let's have an in-depth look, overanalyse lyrics and scrape out any appropriate plot morsels as we put on our detective caps and investigate the Death Of A Bachelor.
Theory 1 - An Actual Murder
Plot: Brendon and friends successfully murder someone ("Victorious") before hitting the town to celebrate ("Don't Threaten Me With A good Time"). Feeling guilty, Brendon attends church ("Hallelujah) but realises he's going to end up in hell either way (video for "Emperor's New Clothes"). So, he accepts the fact that he killed this poor guy because now he can run off with his wife ("Death Of A Bachelor") although admits that he is a psychopath ("Crazy=Genius"). Brendon hangs out with the murdered guy's wife ("LA Devotee", "Golden Days"), before it starts to fall apart ("The Good, The Bad and The Dirty") and the wife finds out about the murder ("House Of Memories") with Brendon getting put in jail after a 12 month trial ("Impossible Year").
Likelihood? Panic! do have a penchant for everything theatrical but some of these are more individual stories than part of a grander whole.
Theory 2 - The Real-Life Panic! Story
Plot: Celebrating their recent resurgence in popularity ("Victorious", "Don't Threaten Me With A Good Time", "Hallelujah"), Panic! reminisce about how they "took back the crown" at the top of the charts ("Emperor's New Clothes") surviving despite the many line-up changes ("Death Of A Bachelor") but still giving a nod to their early days with a musical allusion to their debut ("Crazy=Genius"). They later pay tribute to those lost band members who helped start it all ("Golden Days") and admit that, sometimes, it's tough recording a whole album by yourself ("Impossible Year").
Likelihood? The changes in the band are definitely a big reference point throughout the record and it's likely that all the nostalgia mentioned in the likes of "Golden Days" has a direct subtext to when the band started out.
Theory 3 - Ryden
Plot: Distraught at the end of their relationship ("Golden Days" with all its he-pronouns intact) Brendon begs forgiveness and crumbles under the weight of emotion, curling up in a ball until Ryan returns to the group, still slumped in bed with only Netflix for company months later ("Impossible Year").
Likelihood? It is not about Ryden.
Theory 4 - LA Tribute
Plot: Brendon writes a love-letter to the city he lives in.
Likelihood? Kind of only applies to one song...
Theory 5 - Brendon's Personal Development
Plot: Brendon wanted to talk about, ya know, who he's become now and that's what these songs are on the album and it's kind of a look back into the past at who he used to be and being grateful that he's not that person anymore, and that he's able to move forward.
Likelihood? Well, he said it so yeah...
We're done here.
Conclusion
Death Of A Bachelor is about Brendon's life and has a concept but is not a concept album.
Thus concludes this mysterious case/#Content.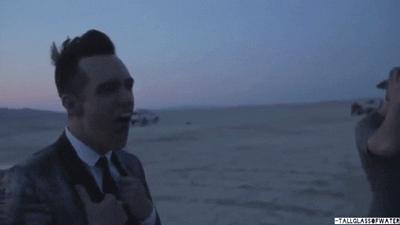 tumblr