Definitive Proof That Panic! At The Disco Were Victorious In 2015
9 December 2015, 15:11 | Updated: 8 May 2017, 17:09
Year In Panic things
2015 was a good year for Panic! at the Disco stans. And, being absolute P!@TD trash, it was a great year for all of us here at PopBuzz.
So to celebrate all of the Lord's blessings in 2015, have a roundup of our fave Panic! moments of 2015. The good, the bad and the wtf-are-you-doing-Brendon-have-mercy-on-our-souls.
The calm before the storm.
Following 2014's The Gospel Tour, some album rumours and the absolute gem that was this video, things were quiet for a while.
Too quiet... We all knew they were up to something. What were they plotting?
More importantly, where was the freaking album???
They played a few gigs here and there, reminded us of why we love them and off they were - into the possibly-record-finishing-we-don't-really-know abyss.
I mean the gifs were amazing...

And Brendon's instagram kept us at peak thirst levels throughout, especially when he got that tattoo.

And then - Shock! Horror! - we finally had some real news, but not the good kind.

NO. NONONONONO. What would this mean for our fave band??? Was this the 1D effect sinking its claws into our childhoods?
Eventually, after several freakouts and the completion of a Spencer Smith shrine in our bedrooms, it was time to move on.
They played several gigs in the lead to the big announcement, including the gift that was Panic! at Reading.

Then finally, it happened! They released the first single!
WTF was that video even? We didn't know, but we wanted it streaming on loop directly into our brains forever.
And then, the biggest YAAAS moment of 2015 - on October 22, Death of a Bachelor was finally announced!
We remember exactly where we were when the news dropped... typing away at PopBuzz HQ, lessberull.
November brought us this brief, but magical moment, courtesy of the Macy's Thanksgiving Day Parade.


Panic! released three more videos in the run-up - Hallelujah, Emperor's New Clothes and LA Devotee. Let us live!
Throughout it all, we've had one question. Dear Brendon Urie, do you need help finding a shirt?
#brendonsshirtappeal2015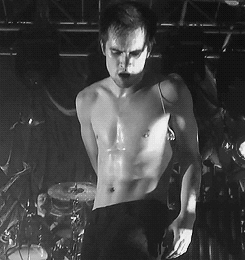 On second thought, forget that. Let's never mention the shirt again.