Panic!'s Brendon Urie On Grammys: "I'm Glad I'm Not Up Against Twenty One Pilots!"
9 December 2016, 16:56 | Updated: 8 May 2017, 17:09
Brendon reveals how he heard he'd been nominated and what he expects from the upcoming ceremony...
Panic! At The Disco frontman Brendon Urie has given his first interview since getting nominated for a 2017 Grammy Award.
Panic!'s fifth album Death Of A Bachelor was nominated for Best Rock Album and Brendon told Billboard magazine about getting the news at a very early hour of the morning...
Yeah! I woke up, pretty early actually, to my phone ringing at 5:30 a.m. But it was one of my managers, Scott. So I woke to my phone vibrating and I was like, "I'm not answering that. It's 5:30 a.m., f--- you." So I hang up and just kind of sat in bed for a couple more hours, and then I had no idea why he was calling. So finally I woke up around 7:30, 8 o'clock I checked my email, and there were like three emails from him, and he's like, "Hey man, wake up! You got nominated for a Grammy!" So I jumped out of bed, I was like, so ecstatic. I made a pot of coffee, I was like, "Oh my God, I don't even know what to do." So I was kind of like bouncing around the house for like 45 minutes -- just elated, man. Just a very surreal thing to be nominated for something like that.

Brendon Urie, Billboard
Imagine waking up to THAT piece of information!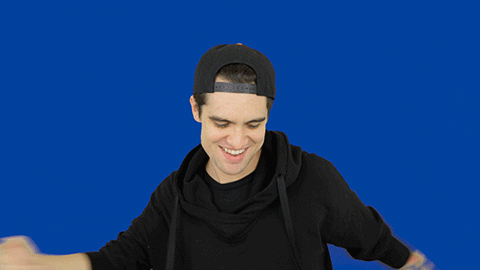 Giphy
Panic! attended the Grammys once before back in 2007 but were left embarrassed when their handler forgot to bring any tickets to the after-party. Hopefully 2017 will bring some better memories.
But does Brendon fancy his chances at the ceremony in February? Well, he's much happier now that he's not competing with his old friends Tyler and Josh...
Uh, I'm glad I'm not up against Twenty One Pilots! That momentous snowball that will never stop, it's amazing! No, it's just crazy, like, to be in such company like Blink-182, Cage the Elephant -- they're amazing artists. You know? This is not a throwaway thing, this is so magnanimous to me. It's huge.

Brendon Urie, Billboard
Brendon also chatted about his new partnership with Fender guitars in the interview at his house in LA.
Check out video showing off his new custom guitar in the clip below:
___ ___ ___ ___ ___
Catch Little Mix & more on the #PopBuzzPodcast right now. Subscribe for free on iTunes to get new episodes sent straight to your phone every Wednesday.